| Photo Credit: Jennifer Chong |

Recipe excerpt from my book, From Burnout to Balance: 60+ Healing Recipes & Simple Strategies to Boost Mood, Immunity, Focus & Sleep, copyright © 2022 by Patricia Bannan. Recipe used by permission of Rodale Books, an imprint of Random House, a division of Penguin Random House, LLC, New York. All rights reserved. Order your copy today!
An asparagus and potato frittata is basically an Italian-style crustless quiche. This version is almost like having potatoes au gratin stuffed inside an asparagus frittata! You'll be so comforted by the layers upon layers of potatoes.
It tastes quite rich, but luckily it easily fits into your healthful lifestyle since it features plenty of nutrient-rich veggies—asparagus, potatoes, scallions, and, if you want, arugula. Of course, you'll be getting high-quality protein from the eggs, too.
Time Saver for This Asparagus Potato Frittata:
If you can find pencil-thin asparagus spears, simply trim the ends and arrange the whole (or halved) spears instead of shaved spears on top of the frittata … no shaving required.
Tips:
Have mushrooms on hand? Sauté them and add them on top of the frittata for bonus savory goodness and a hearty alternative to the arugula. 
The Manchego cheese adds a sharp nutty flavor. However, feel free to use whatever cheese you have on hand (feta, mozzarella, Cheddar, gouda, or even gouda with truffles)—it all works!
This Recipe Is:
Vegetarian
One-Dish Meal
Guten-Free
No Added Sugars
Great for Leftovers
---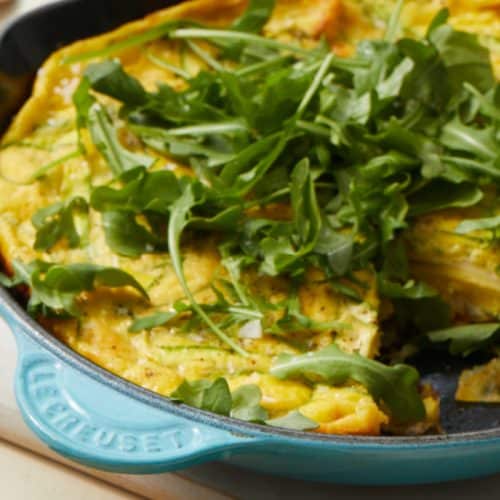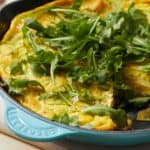 Prep Time 18 minutes
Cook Time 45 minutes
Ingredients
1/2 pound asparagus stalks, untrimmed
10 large eggs
1/4 cup 2% fat milk or plan, unsweetened plant-based milk of choice
3/4 teaspoon sea salt, divided
1/2 teaspoon freshly ground black pepper, divided
2 ounces Manchego cheese, grated or finely crumbled
2 tablespoons extra-virgin olive oil
3 scallions, thinly sliced on a diagonal, green and white parts seperated
2 medium Yukon Gold potatoes (12 to 13 ounces, total), unpeeled, sliced into extra-thin rounds
Supercharger: 2 cups packed fresh baby arugula and 1 small lemon, cut into wedges (optional)
Directions
Shave the asparagus: Lay a single stalk of asparagus on a cutting board. Holding on to the tougher end, use a vegetable peeler to shave the asparagus spear into thin ribbons, peeling away from the tougher end. Trim the tough end and compost (or discard) any remaining woody portion, and repeat with the remaining stalks.

Preheat the oven to 375°F. Whisk together the eggs, milk, 1⁄4 teaspoon of the salt, and 1⁄4 teaspoon of the pepper in a large bowl until well combined. Stir in the shaved asparagus and Manchego and set aside.

Heat a 10-inch cast-iron skillet over medium heat. Once it's hot,add the olive oil and swish it around so it travels up the sides of thepan. Stir in the white parts of the scallions. Then, working quickly and carefully, evenly arrange the potatoes in a couple of layers in overlapping style in the skillet. Sprinkle with the green parts of the scallions and the remaining 1⁄2 teaspoon salt and 1⁄4 teaspoon pepper and cook for 2 minutes. Add the egg-asparagus mixture to the skillet, using tongs to evenly arrange the asparagus and using a spatula to press down and ensure the asparagus is coated with egg mixture. Cook on the stovetop until the edges of the frittata are just set, about 5 minutes.

Transfer the skillet to the oven to continue cooking until the top is golden brown and the center is fully set, about 35 minutes. (When the potatoes are cooked through, a paring knife or fork should easily pierce all the way through the frittata with little resistance.)

Let cool for at least 5 minutes to complete the cooking process. For best results, turn the frittata out onto a cutting board for slicing. Cut into 6 wedges. Top each wedge with fresh baby arugula and a squeeze of lemon, if desired.

The frittata keeps well in the fridge, covered, for up to 4 days. Gently reheat in the oven or microwave as needed.
Nutrition
Calories: 250kcal | Carbohydrates: 12g | Protein: 15g | Fat: 16g | Saturated Fat: 6g | Cholesterol: 320mg | Sodium: 480mg | Fiber: 2g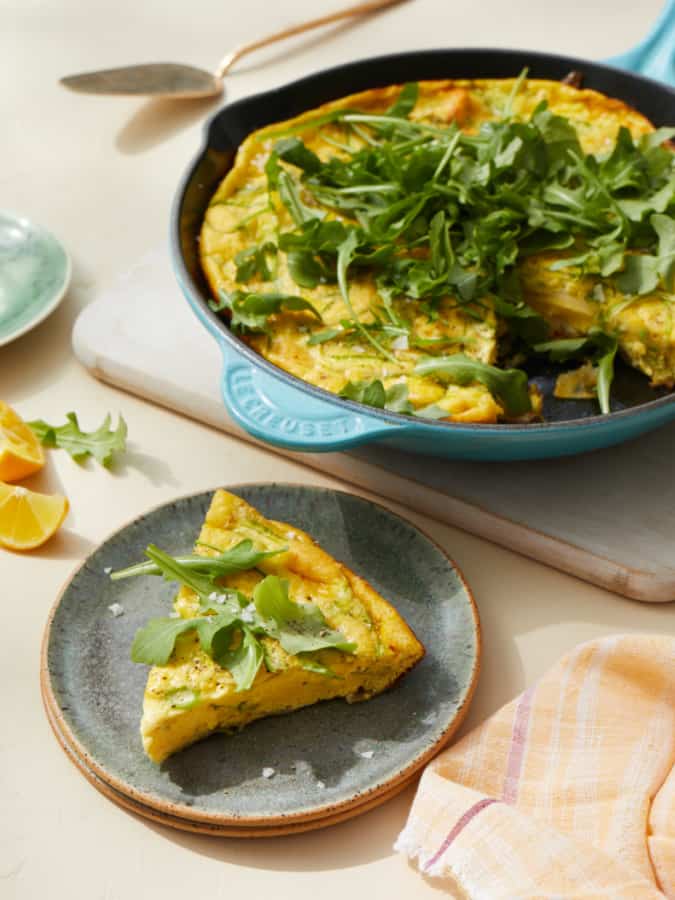 | Photo Credit: Jennifer Chong |
Additional Breakfast and Brunch Recipes
Looking for more delicious recipes like this potato frittata to start the day off on the right foot ? Try one of these: