I'm thrilled to share my recent Q&A with nationally recognized nutrition expert Maya Feller, MS, RDN, CDN about her new cookbook, Eating From Our Roots, which was recently released by goop Press + Penguin Random House.
This beautiful cookbook features 80+ recipes highlighting nourishing dishes from around the world with a focus on whole and minimally-processed ingredients prepared with spices and flavor-enhancing techniques.
In this book, Maya looks at the intersection of culture and nutrition, challenging dominant norms around food, nutrition, and wellness. Maya is known for providing nutrition education from an anti-bias patient-centered, culturally-sensitive approach on Good Morning America and other outlets.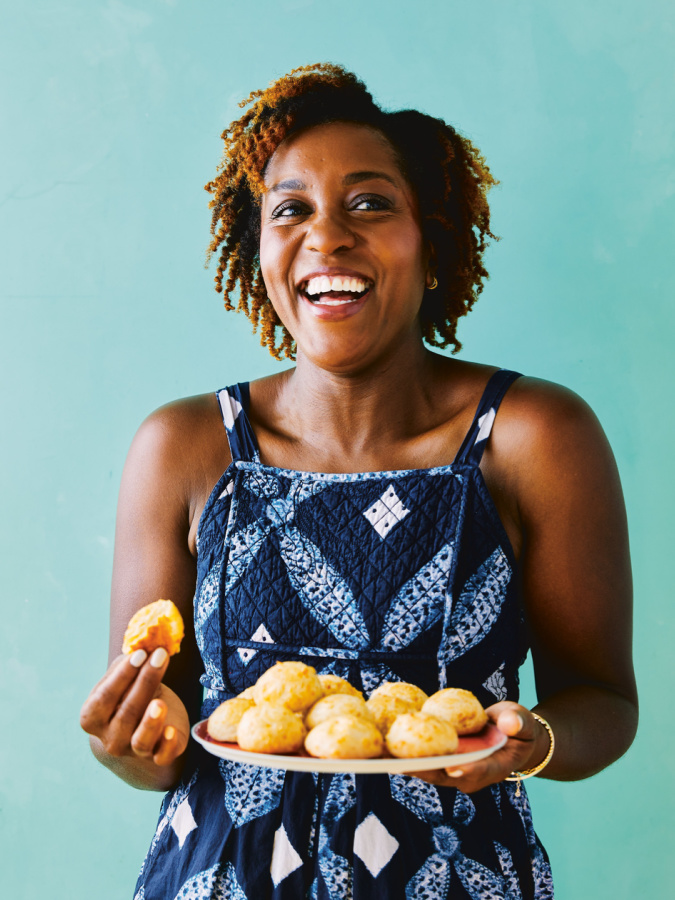 Photo Credit: Christine Han
Below are ten questions I had the pleasure of asking Maya regarding her new book, Eating From Our Roots.
1. What was the main inspiration behind this book?
As an RD, I've always been interested in exploring the intersection of race, class, food access and culture. When I taught at NYU, I saw that the text books used (the ones meant to educate future RDs) examined human nutrition from a narrow lens, one that was from a prescriptive one size fits all. 
I intuitively knew that this was not how the world at large interacted with or thought about food.
People across the world (Eastern and Western Europe, Africa, Asia) all have different patterns of eating that are not represented in the pages of nutrition text books. I wanted to write a book that encouraged and celebrated taste, flavor, culture and history without shame or judgement. 
2. What did the process look like to develop such a diverse set of recipes? 
I collaborated with seven Chefs who are from the regions that are highlighted in the book or who have spent time in those areas as well as created recipes of my own.
The flavors are tastes of home that take readers on a culinary journey around the globe. Some of the recipes may be familiar and have similarities to heritage recipes, while others are interpretations on standards. 
3. How much did your upbringing and traveling influence this cookbook?
I was born in the North East part of the U.S., and there are recipes that are representative of that area. And there are also recipes that are influenced by my Afro-Carribean heritage.
The Swiss inspired recipes are a nod to my multicultural home. My lived experience absolutely informed how I think about food and the recipes that I chose to include from my upbringing. 
4. Can these recipes fit into a busy lifestyle with minimal time to cook? 
Eating From Our Roots has a wide variety of recipes. Some of quick and easy recipes that require minimal preparation time while others take longer. The recipes that take longer can be reserved for those times when the home cook can have a slow food day in the kitchen. 
5. How can these dishes help prevent disease and promote well being?
These recipes are not preventative recipes; however, they can be modified or eaten as written. Each reader / home cook is encouraged to know their current health status and engage in making recipe choices based on themselves. 
6. How is this book different from the other books you've published?
My first cookbook was a diabetes-friendly cookbook that showcased Southern American comfort foods. The standards that people associate with American comfort foods modified to reduce added sugars, salts. and fats.
Eating From Our Roots leans into tastes of home and heritage flavors with some modifications; however, the recipes are not intended for a specific diagnosis.
7. What was something that surprised you when writing this book?
I learned that in nutrition, RDs are really taught to work from the lens of restriction rather than what can we add and how can we make it culturally relevant, affordable and tasty. Working on the recipes really reinforced that for me. 
8. Who do you think can benefit the most from your cookbook?
Anyone who wants to explore in the kitchen can find joy and benefit from my cookbook. 
9.  What is your favorite recipe in the book and why?
I don't have a favorite—I love them all it's so hard to choose.
Maya let me choose a recipe, and this stew looked amazing… 
PEANUT MISO STEW
(West and Central Africa)
Serves 6 to 8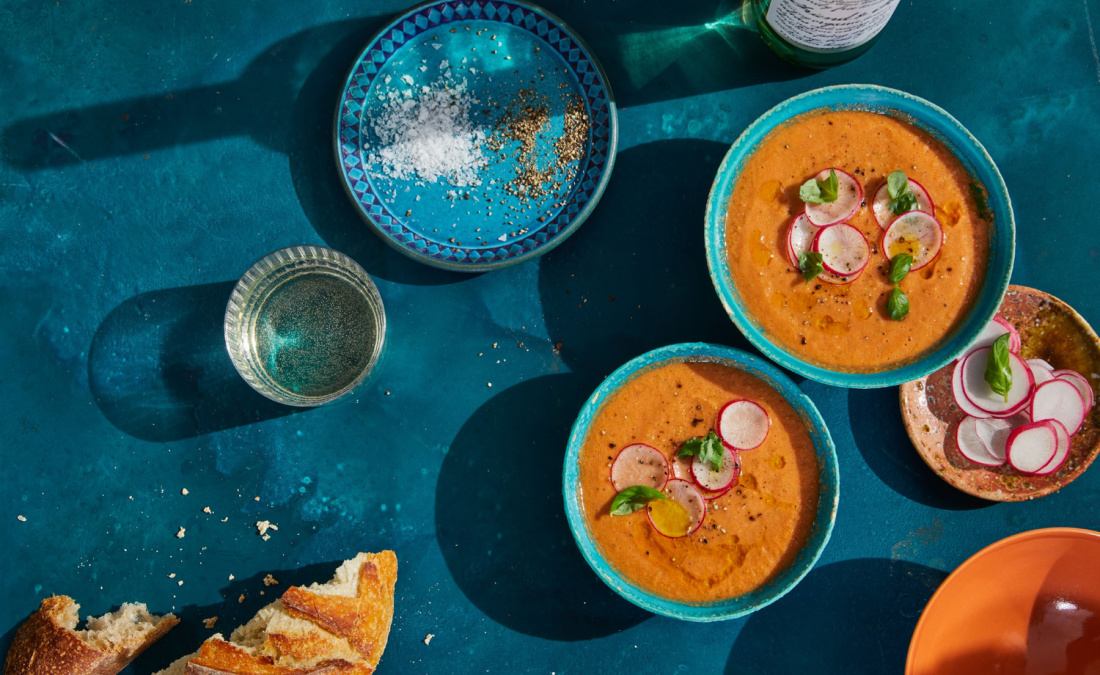 Photo Credit: Christine Han
This legume-rich stew provides a great source of plant-based protein as well as vitamins and minerals that support metabolic function and energy production thanks to the peanuts and black-eyed peas. Creamy with a hint of starch, simply delicious. The rich flavors come together in a relatively short amount of time, making it a staple in your rotation.
Ingredients:
5 tablespoons no sugar-or salt-added peanut butter
5 tablespoons miso
½ cup diced yellow onion
1 carrot, diced
2 tablespoons avocado oil
½ cup raw peanuts
1 cup cooked black-eyed peas, cooled
5-inch piece of kombu
2 tablespoons honey
Juice and zest of 2 limes
1 tablespoon thinly sliced fresh cilantro
1 tablespoon thinly sliced fresh parsley
1 teaspoon chopped fresh chives
1 jalapeño, sliced thinly into rings, for garnish
2 cups toasted peanuts seasoned with paprika, for garnish
Kosher salt to taste
Directions:
Mix the peanut butter and miso. Reserve. In a large stockpot over medium-high heat, sauté  the onions and carrots in avocado oil for 5 to 7 minutes, until translucent. Add the raw peanuts, black-eyed peas, kombu, and honey, as well as 3 cups of water, and bring to a boil. Cook for approximately 10 minutes, or until the liquid is reduced by a third. Add the peanut-miso mixture and continue cooking for 10 minutes, until thickened. Add the lime juice and zest, cilantro, parsley, and chives to the hot stew. To serve, ladle the hot stew into a bowl and garnish with the thinly sliced jalapeño rings and crunchy peanuts. 
Recipe from EATING FROM OUR ROOTS. Copyright © 2023 by Maya Feller. Published by Rodale Books, and imprint of Penguin Random House, LLC. Reprinted with permission.
10. What key takeaway do you want Eating From Our Roots to provide around food, culture, and diversity?
Eating From Our Roots is a culinary trip around the globe. The recipes encourage home cooks and readers to embrace flavor and nourishment without judgement.
More About Maya Feller
Learn more about Maya Feller and her new book, Eating From Our Roots, on her website.