Use this list of 10 healthy grocery staples to simplify your meal routine—from shopping, to cooking, to meal prep.
Making decisions each day about food can take a larger toll than you think. If you feel the overwhelm creep in when it's time to go to the grocery store, this shopping list of grocery staples can help you stock up on healthy, time-saving items to reduce stress.
The Importance of Grocery Staples
Streamlining your food choices and having certain items in your pantry can save time, energy, and benefit your health. Plus, there are certain foods that can boost your energy while also easing anxiety.
Your shelves may be stocked with food, but do you find yourself feeling like there's never anything good to eat? It may be time to declutter your pantry, freezer, and fridge, and start fresh with these staples.
Simplifying your kitchen can relieve stress, make cooking and preparing food less exhausting, and elicit a more enjoyable experience.
10 Nutritious Grocery Staples
Keeping these grocery staples in stock means that the key items to replenish will mostly be fresh ingredients (fruits and vegetables, eggs, dairy or dairy alternatives, and herbs) and ingredients you need to make specific recipes.
Canned beans
Nuts and seeds
Ready-to-eat cereals
Canned and boxed soups
Frozen fruits and vegetables
Canned or frozen fatty fish
Oats
Frozen pre-cooked whole grains
Healthy oils
Green herb sauces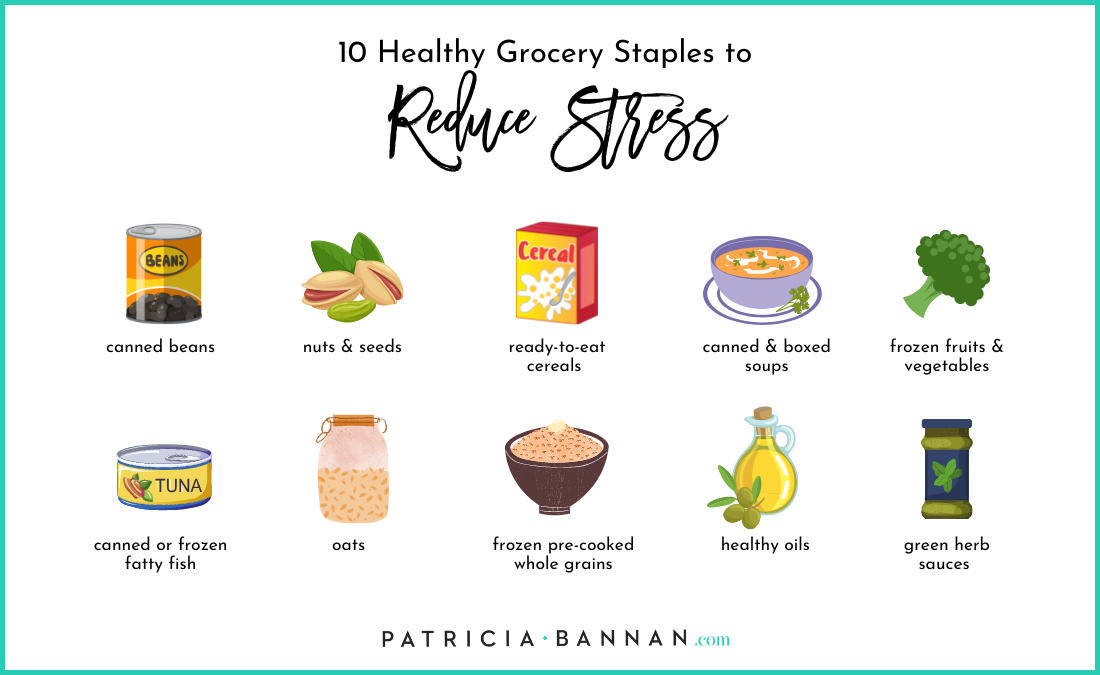 Let's take a closer look at each one, and how they can be used in popular dishes.
1. Canned beans
Canned beans are sustainable, budget-friendly, and their convenience factor makes pulling together a healthy meal in minutes easier than ever. A nutritional powerhouse, they have been shown to support heart health, weight management, and help stabilize blood sugar levels.
Ways to enjoy beans:
Stock up on all kinds and colors of canned beans for soups, salads, and dips. Rinse canned beans to reduce the sodium by 40 percent!
2. Nuts and seeds
Nuts and seeds provide plant-based protein, fiber, and healthy fats for staying power. The highest protein snack nut, pistachios are a smart pantry staple providing 6 grams of complete, plant-based protein and 3 grams of fiber per serving.
Ways to enjoy nuts and seeds:
They come in fun flavors to keep things interesting. Toss them in your salad instead of croutons, use them as an ingredient when cooking, or simply grab a handful for a healthy, stress-free snack.
3. Ready-to-eat cereals
A bowl of cereal with milk (or milk alternative) might be one of the quickest meals to start your day, but did you know it could also be one of the most nutritious? Research shows most cereals provide meaningful amounts of whole grain, fiber, vitamins, and minerals which aren't always easy to find in other breakfast choices.
Ways to enjoy cereal:
Boost your intake of essential nutrients even more by topping your cereal with fruit, or make a trail mix with cereal, dried fruit, and nuts for a nutritious anytime snack.
4. Canned and boxed soups
A quintessential comfort food, soup is as nourishing as it is delicious. For those nights you don't have the time or energy to make a soup from scratch, having low-sodium canned or boxed soups on hand can be just the thing. Stock up on vegetable- and broth-based options as they are rich in nutrients while being low in calories and fat.
Ways to enjoy soup:
Add in extra vegetables, quick-cook whole grains, or pre-cooked chicken or tofu for a balanced meal in minutes.
5. Frozen fruits and vegetables
It can be both pricey and stressful to perfectly plan all your fresh produce for a week. Thankfully frozen fruits and vegetables are more than convenient and budget-friendly, they are often more nutritious than fresh. That's because frozen fruits and vegetables are picked at peak ripeness, then flash frozen to lock in their nutrients.
Ways to enjoy frozen produce:
Toss them into smoothies, add to a stir-fry, or bake them in dishes. Plus, frozen produce is a lifesaver on the nights when you can't bear to chop anything.
6. Canned or frozen fatty fish
Fresh fish can be expensive—and might spoil before you can use it. Reduce the stress of wasting food but stocking up on frozen and canned versions. Fatty fish is rich in protein, as well as EPA and DHA omega-3 fatty acids, which research shows are important for overall wellness, including brain, eye, and heart health.
Ways to enjoy fatty fish:
Bake a frozen salmon fillet for a quick dinner with veggies, add a can of tuna to your pasta dish, or enjoy a tin of oil-packed anchovies as a healthy snack.
7. Oats
Whether steel cut, old-fashioned rolled, or quick-cooking, oats are a nutritious and versatile pantry staple. They provide mood supporting nutrients, like magnesium to reduce anxiety, B vitamins for managing stress and energy, and probiotics for gut health.
Ways to enjoy oats:
They're awesome for overnight oatmeal, cook up quickly for a hot breakfast, and make a delicious and crunchy topping when baked.
8. Frozen pre-cooked whole grains
Whole grains provide key nutrients such as fiber, iron, magnesium, and B vitamins. When waiting 30 minutes or more for them to cook is not an option, make your life easier by stocking up on frozen whole grains that can be cooked in three minutes or less in the microwave.
Ways to enjoy frozen whole grains:
Options include brown rice, quinoa, and flavored bean-and-whole-grain blends. Enjoy them as a high-fiber side dish, in a soup, or base to a veggie bowl.
9. Healthy oils
Plant-based oils such as avocado oil, extra-virgin olive oil, and sunflower oil are a kitchen mainstay for both your heart health and culinary repertoire.
Ways to enjoy healthy oils:
Use them to make a homemade salad dressing, cook up a quick stir-fry, or as an ingredient in your favorite baked good. To prevent oxidation, oils should be stored in a dark glass container or tin that protects them from light and air.
10. Green herb sauces
Pick up a jar of pesto, chimichurri, or salsa verde to quickly flavor up meals all week. They're packed with nutrient-rich fresh herbs, and you don't have to do the rinsing and chopping.
Ways to enjoy green herb sauce:
Keep a couple on hand to stir into soup, flavor dips, drizzle on bowls, or turn into tasty salad dressing.
More Steps to Reduce Stress in the Kitchen
In addition to these 10 grocery staples, it's important that your kitchen feels like a calming place. Toss out things that are expired and donate unopened products that aren't your favorite.
Having matching pots and pans, and the proper lids for your storage containers can make a big difference too. Then, light up your favorite candle and play calming music or listen to a podcast for stress relief.
Find a complete list of my food staple shopping recommendations, as well as recipes to reduce stress, in my book, From Burnout to Balance.