If you're curious about essential oils and how they might impact your focus, mood, and stress levels, you've come to the right place.
When I've had a long day, there's often nothing I want more than to curl up in bed with a big mug of lavender tea. Not only does the calming aroma start to melt away the stress of the day, but it also helps put me to sleep. I wake up feeling refreshed and truly ready for the day ahead.
Other days, I might need a morning pick me up. Something to lighten up my day. I've found something as simple as the aroma of citrus can help. The scent of lemon or orange has been shown to boost your mood, and I love the bright aroma it leaves behind—just like a beam of sunshine!
Pleasing scents can have a tremendously positive effect on our mood and health. Aromatherapy works off this concept through the use of essential oils that help to improve our well-being.
Wondering which essential oils can improve your concentration, uplift your mood, or give you that much-needed rush of energy? Keep on reading to learn about 10 different essential oils for focus, energy, and mood.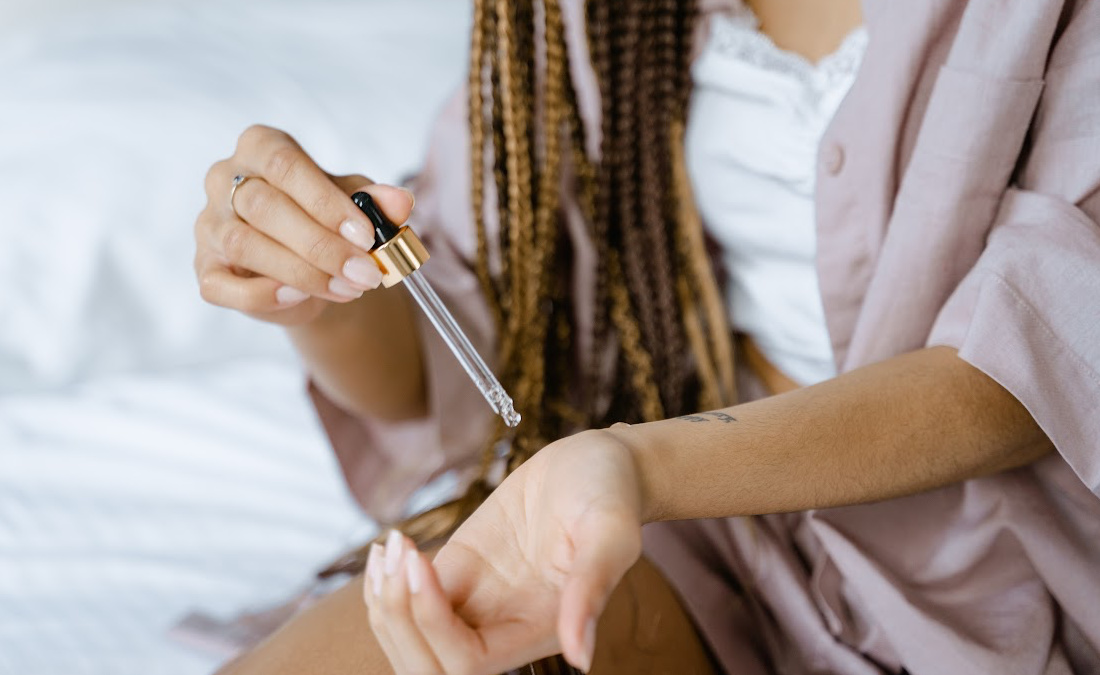 What are Essential Oils?
Essential oils are concentrated plant extracts that are made through pressing or steaming. They can come from many different sources, such as the plant's fruit, leaves, bark, or flowers.
These extracts can capture what gives the plant the aroma, producing an oil that has a pleasing scent. They can be used in many ways, such as scenting soaps, lotions, or in a diffuser or humidifier.
Do Essential Oils Work?
Aromatherapy has been practiced for centuries, though there has been a recent rise in popularity of essential oils. Each essential oil is made up of different compounds that can affect the body in different ways, depending on the oil and how it is used.
Aromas from essential oils travel directly to the brain, especially helping to improve focus and concentration, and also uplift your mood. While certain compounds may also have anti-inflammatory and antioxidant properties, it's important to recognize that there are some negative risks associated with improper use of essential oils.
Always be mindful of possible irritations or allergic reactions, especially with younger children, pets, or if you have atomic dermatitis.
How to Use Essential Oils
Essential oils are highly concentrated and should be diluted before use. You can use olive oil, coconut oil, or another carrier oil that will reduce the strength of the essential oil.
Most essential oils are not edible, and some, such as tea tree oil, may have serious effects when consumed, so please exercise caution. Though essential oils do last a while, you should refrain from using expired ones as they may deteriorate over time.
10 Essential Oils for Focus, Energy, Stress, and to Boost Mood
Without further ado, here are 10 essential oils that can promote your concentration and attention, give you an energy boost, and help you to be in the best mood you can be.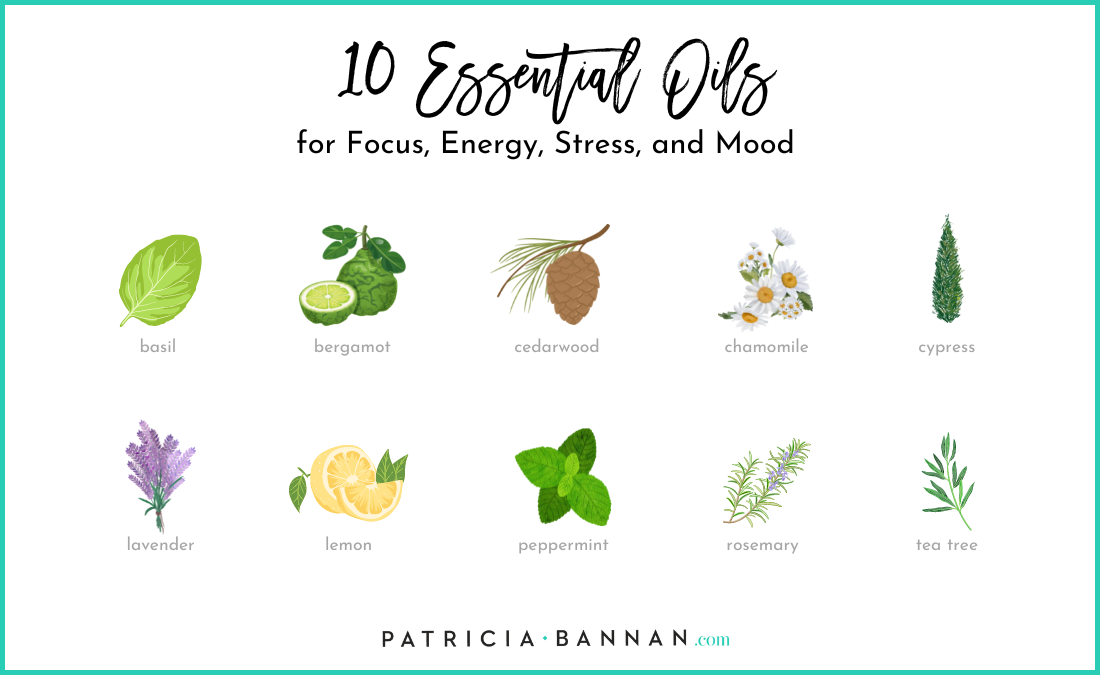 1. Basil Essential Oil Benefits
Who doesn't love basil? This essential oil with a delicious, familiar scent has been linked with a reduction in severity of migraines. Diluting this oil and massaging it into your scalp may not only reduce stress but also help with headaches and improve focus.
2. Bergamot Essential Oil Benefits
You might not be familiar with this oil other than seeing it as a candle scent. It comes from the rinds of bergamot oranges. Earl Grey tea is flavored with bergamot, and it's also found in perfumes and cosmetics. The essential oil is used to reduce symptoms of anxiety and stress. Add a drop to a handkerchief or scarf for a soothing and pleasing scent that you can carry with you for stress reduction.
3. Cedarwood Essential Oil Benefits
This essential oil comes from cedar trees and has a rich, woodsy scent. It's been associated with reducing anxiety and relaxing the mind. On days when you need a little help clearing your thoughts to improve concentration, try adding a few drops of cedarwood to a diffuser near your workstation.
4. Chamomile Essential Oil Benefits
A staple of bedtime routines, chamomile has a peaceful, soothing scent that can help you relax and unwind. One study found that chamomile essential oil helped to decrease depression, anxiety, and stress in older adults. Regardless of your age, it's no secret that chamomile has a calming effect on the body. Before bed, try diluting this oil with a lotion or moisturizer and applying it to your skin. You'll be sure to drift off to sleep peacefully.
5. Cypress Essential Oil Benefits
This essential oil is made from the twigs, stems, and leaves of the cypress tree. It has a strong, fresh aroma that is often used in aromatherapy for attention. One study suggests that this essential oil may have antimicrobial properties. Try using a diffuser to fill your room with the fresh green scent of cypress.
6. Lavender Essential Oil Benefits
This essential oil has been found to reduce anxiety and produce a calming effect. It can be blended with a carrier oil and massaged into the skin or inhaled using a diffuser. Personally, I love to add a few drops to my bath for a relaxing night.
7. Lemon Essential Oil Benefits
I always love the way citrus scents brighten a room. These essential oils can reduce stress and uplift mood. One study found that diffusion of citrus essential oils had a positive effect on nurses' moods over two weeks—for all healthcare workers, adding a few drops of lemon essential oil to your routine could prove beneficial. Another way to use this essential oil could be mixing it with water in a spray bottle to make a bright and sunny cleansing solution.
8. Peppermint Essential Oil Benefits
This essential oil is perfect for the stressful holiday season, helping to reduce anxiety. Peppermint essential oil has also been found to have a positive effect on energy levels during exercise, in case you're looking to hit some personal records in the gym! Inhale a little from the bottle when you're feeling sluggish or dilute it with a carrier oil and rub into your skin.
9. Rosemary Essential Oil Benefits
Another one of my favorite scents, rosemary essential oil does more than just smell great. It has antimicrobial, anti-inflammatory, and antioxidant properties, and can also improve mood, learning, and memory. Even more, it also reduces anxiety and can promote sleep. Mix this essential oil with a carrier oil and massage into your skin to enjoy all the benefits listed above.
10. Tea Tree Essential Oil Benefits
This essential oil comes from the Australian tea tree and has been shown to have antimicrobial and anti-inflammatory properties. One of the more popular uses for this essential oil is for the skin, though it must be diluted before use with a carrier oil. It's also important to note that tea tree oil should never be swallowed, as this can lead to serious symptoms.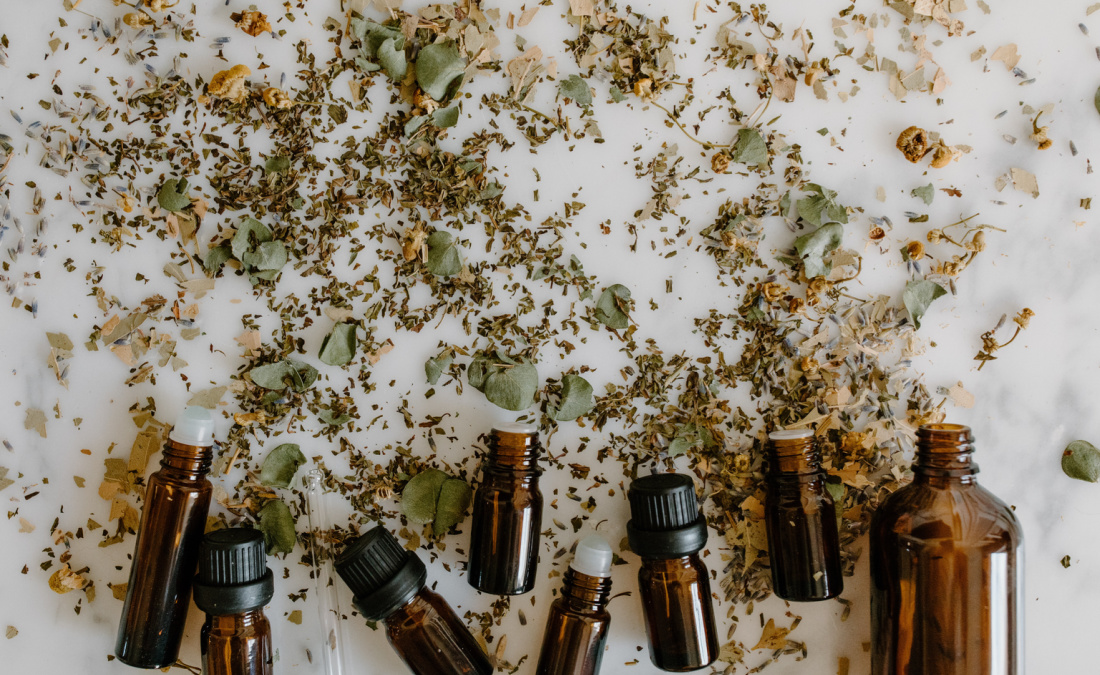 Now that you've learned about the best essential oils for energy, focus, stress, and mood, which essential oil do you think you'll add to your routine? Lavender, citrus, sandalwood—the possibilities are endless!
For those of you who are already lovers of essential oils and are looking for other ways to improve your mood or decrease your stress levels, I've got you covered. There are plenty of foods that are beneficial for memory and focus, or for simply boosting your mood.
You can also find additional strategies and suggestions for improving mood, focus, sleep, and more in my book, From Burnout to Balance: 60+ Healing Recipes & Simple Strategies to Boost Mood, Immunity, Focus & Sleep.