I'm delighted to have partnered with the Global Organization for EPA and DHA Omega 3s (GOED) on this blog post. All opinions are my own.
October is National Seafood Month! Here are 45 healthy seafood recipe ideas to try that provide a dose of omega-3s!
I don't know about you, but I have a serious love affair with seafood. Cod, tuna, salmon… you name it. As a dietitian, I'm aware of how important it is for brain health to consume seafood, and since the human brain is made up of nearly 60 percent fat, it's no surprise that omega-3s are linked to the health of this vital organ. In fact, research shows omega-3s are important for cognition (brain memory and performance) and behavioral function.
To achieve optimal levels, the Dietary Guidelines recommends eating two servings of fatty fish (such as salmon or mackerel) per week, which provides the equivalent of 250-500 mg of EPA and DHA per day. You can also take an omega-3 supplement.
So, to help you achieve your recommended intake of omega-3s from food, I turned to my dietitian blogger friends and asked them to share their go-to seafood recipes. They certainly didn't disappoint! From gorgeous salads to mouth-watering entrees, you're sure to fall in love with shrimp, salmon, and everything in-between. Bon appetit!
Healthy Salads with Seafood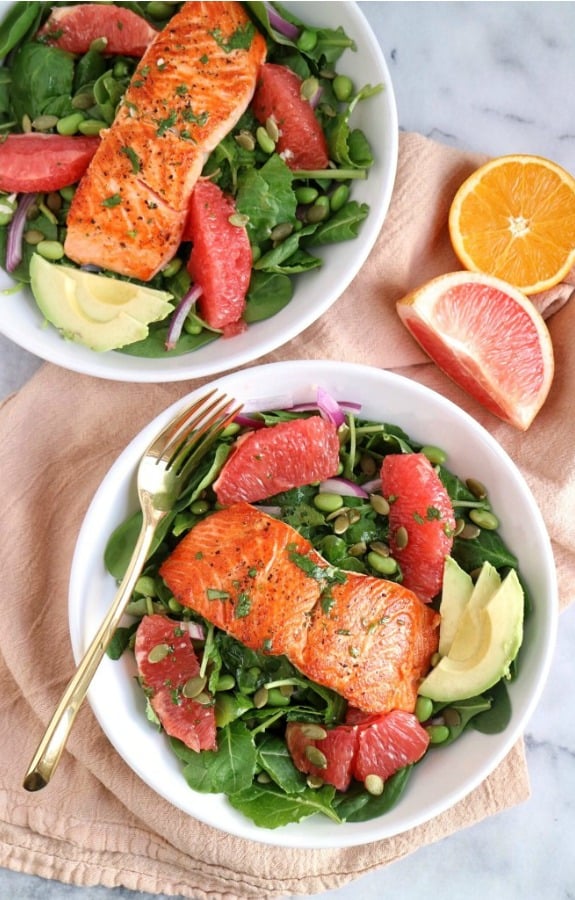 Grapefruit Salmon Salad, Karman Meyer, RDN, The Nutrition Adventure (shown above)
Lobster Caprese Salad, Jenny Shea Rawn, RDN, My Cape Cod Kitchen
Healthy Tuna Salad, Elizabeth Shaw, MS, RDN, Simple Swaps
Grape and Salmon Power Salad, Patricia Bannan, MS, RDN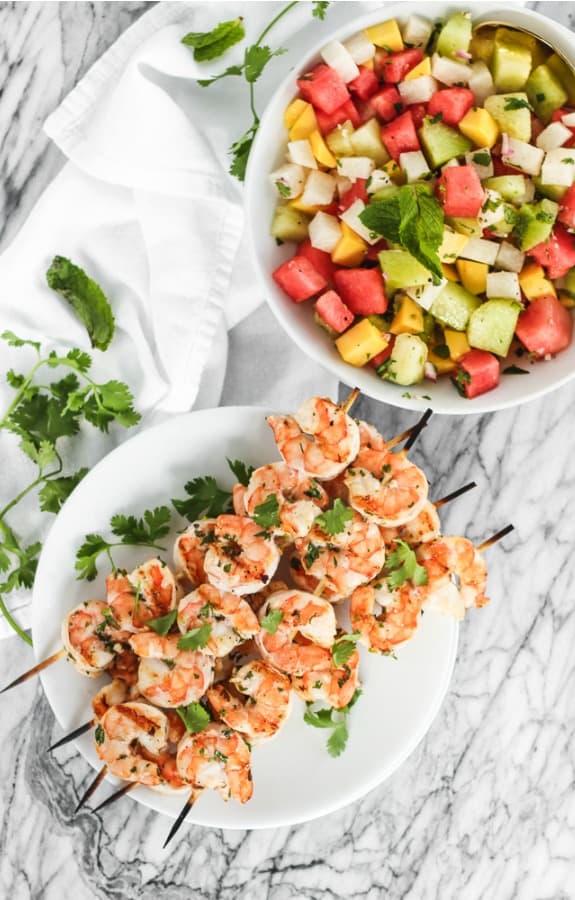 Grilled Shrimp and Mango Melon Salad, Kaleigh McMordie, RDN, Lively Table (shown above)
Salmon BLT Salad, Dara Gurau, RDN, How to Eat
Tangy Tuna Salad, Jennifer Hunt, RDN, Jennifer Hunt Nutrition
Super-Speedy Bean and Tuna Salad, Liz Weiss, MS, RDN, Liz's Healthy Table
Seafood Entrees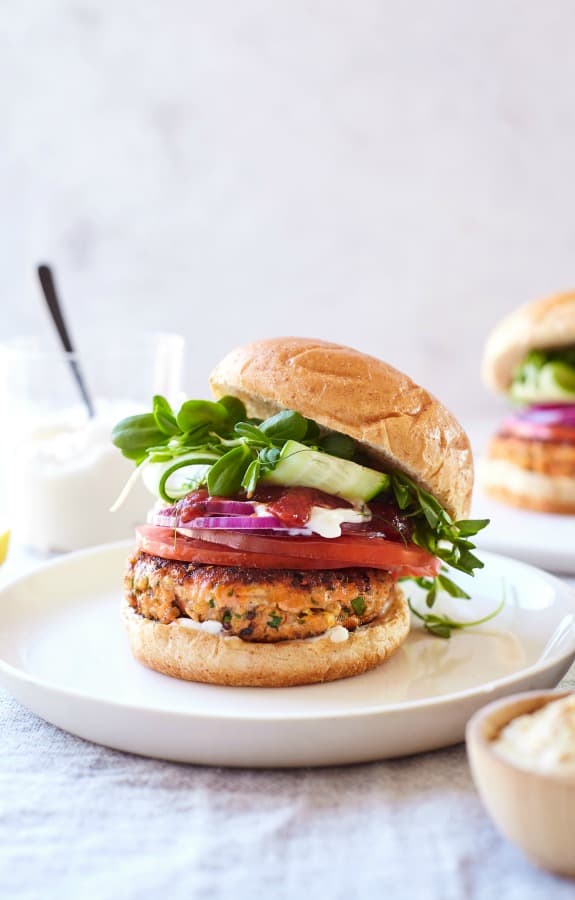 Super Grains Salmon Burger, Patricia Bannan, MS, RDN (shown above)
Easy Salmon Tacos, Edwina Clark, RDN
Instant Pot Shrimp and Grits, Dana White, RDN, Dana White Nutrition
Citrus Shrimp and Zoodles Sheet Pan Meal, Shannon Garcia, RDN, Kiss in the Kitchen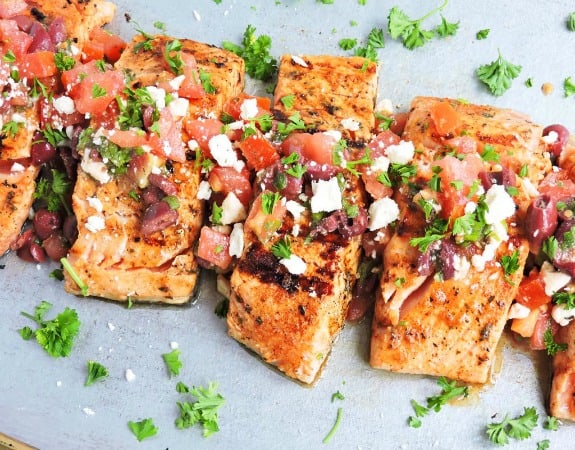 Grilled Mediterranean Bruschetta Salmon, Andrea Mathis, RDN, Beautiful Eats and Things (shown above)
Easy Creamy Polenta, Shrimp, and Vegetable Bowls, Elizabeth Ward, RDN, Better is the New Perfect
Oven Baked Cod with Rustic Sun-Dried Tomato Olive Tapenade, Jessica Levinson, MS, RDN
Maple Mustard Salmon + Roasted Broccoli, Julie Andrews, RDN, The Gourmet RD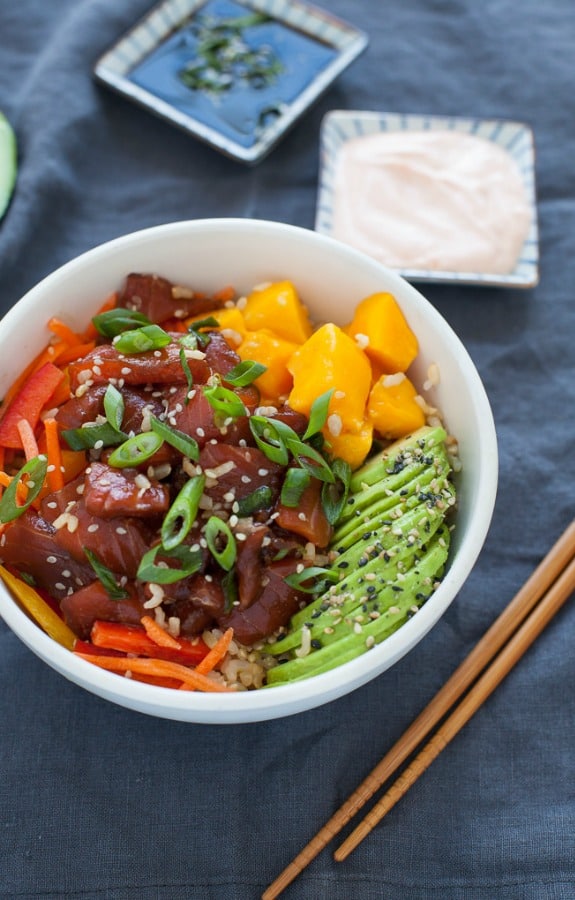 Spicy Salmon and Avocado Poke Bowl, Kara Lydon, RDN, The Foodie Dietitian (shown above)
4-ingredient Shrimp and Pesto Pasta, Holley Grainger, MS, RDN
Salmon Cakes, Colleen Stoernell, RDN, CS Nutrition
Pomegranate Glazed Salmon with Roasted Veggies, Cara Harbstreet, RDN, Street Smart Nutrition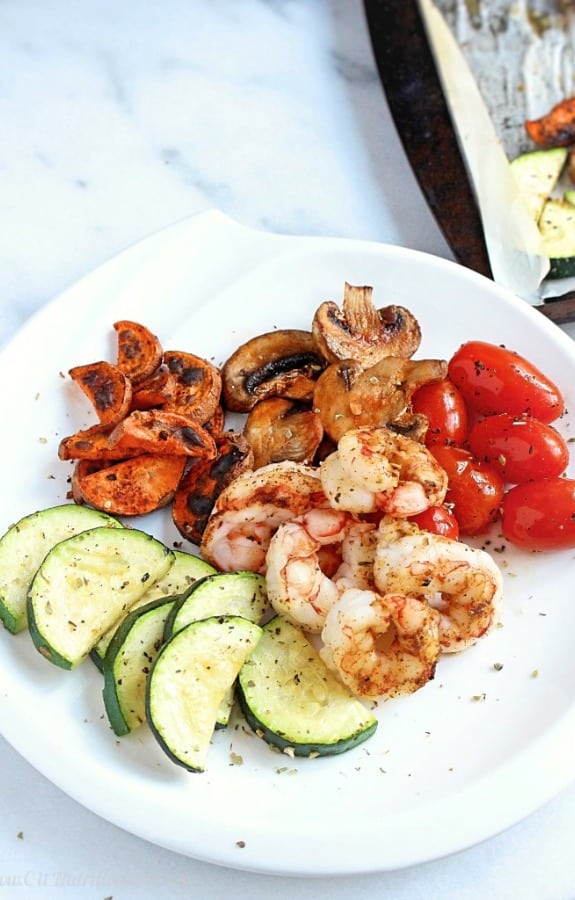 20-minute Sheet Pan Shrimp Dinner, Chelsey Amer, RDN, C It Nutritionally (shown above)
Kale and Mushroom Salmon Burger, Basheerah Enahora, RDN, Be Nutrition Co.
Blackened Tilapia with Mango Avocado Slaw, Megan Byrd, RDN, The Oregon Dietitian
Herbed Goat Cheese and Pistachio Crusted Salmon, Kara Hochreiter, RDN, Byte Sized Nutrition
Salmon Souvlaki with Cauliflower Rice and Tzatziki, Rachael Hartley, RDN (shown above)
Honey Garlic Broiled Salmon, Megan Casper, RDN, Nourished Bite
Turbot with Roasted Grapes, Katie Cavuto, RDN
Tandoori Salmon Tacos, Nazima Qureshi, RDN, Nutrition by Nazima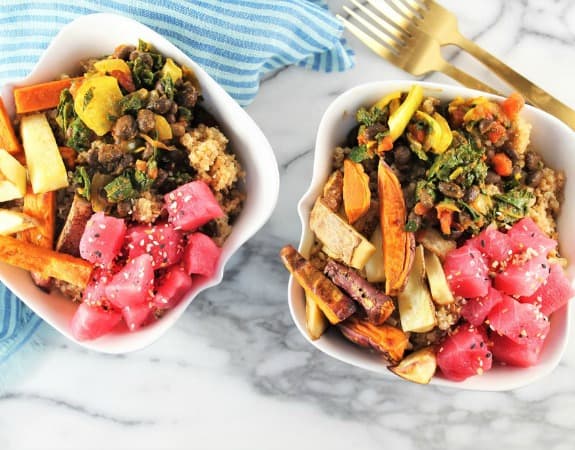 Superfood Poke Bowls, Mary Ellen Phipps, Milk & Honey Nutrition (shown above)
Prosciutto-Wrapped Fish, Judith Scharman, Foods with Judes
Almond Crusted Salmon, Brittany Poulson, RDN, Your Choice Nutrition
Mediterranean Roasted Salmon Chunks, Bonnie Taub-Dix, MA, RDN, CDN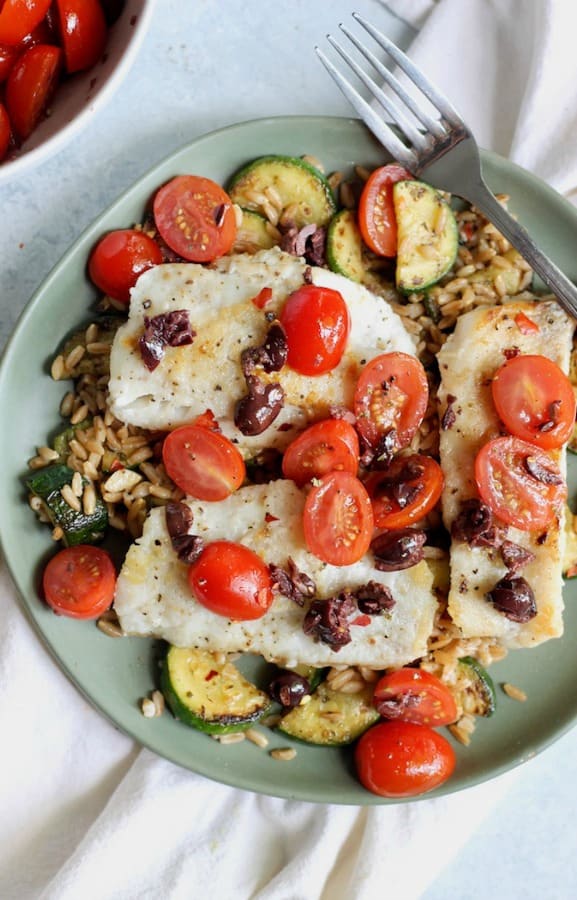 Seared Fish with Zucchini Farro and Tomato Tapenade, Alexis Joseph, RDN, Hummusapien (shown above)
Shrimp Scampi, Triad to Wellness
Pistachio Crusted Salmon with Citrus Gremolada, Emily Cooper, RDN, Sinful Nutrition
Easy Baked Salmon, Rebecca Clyde, RDN, Nourish Nutrition
Asian-Inspired Barramundi, Jill Weisenberger, MS, RDN, Food & Nutrition Solutions by Jill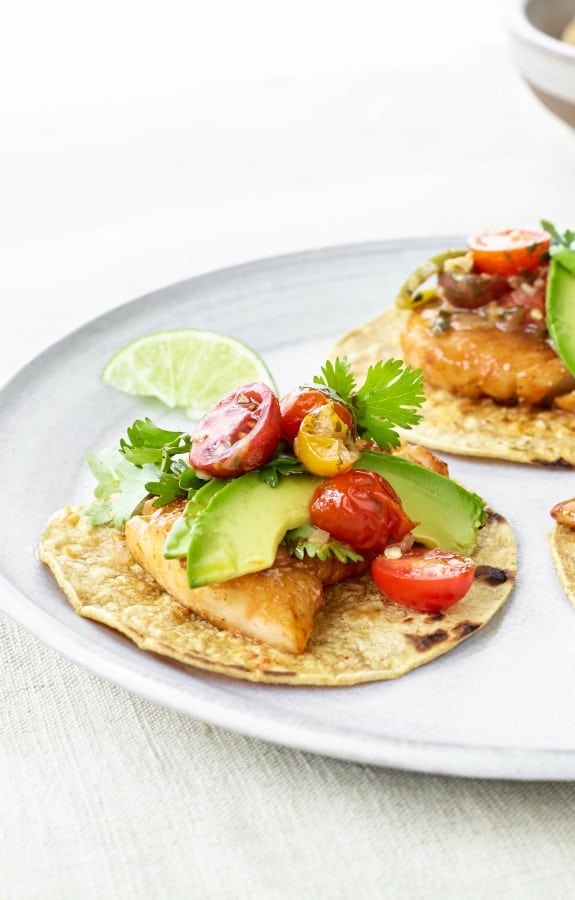 Ultimate Street Fish Tacos, Patricia Bannan, MS, RDN (shown above)
Coconut Shrimp Curry, Shahzadi Devje, RDN, Desi-licious RD
Wild Smoked Sockeye Salmon, Moubarak Hackenbruch, RDN, NutriFoodie
Coconut Lime Flounder in Parchment Paper, Toby Amidor, MS, RD, CDN, Toby Amidor Nutrition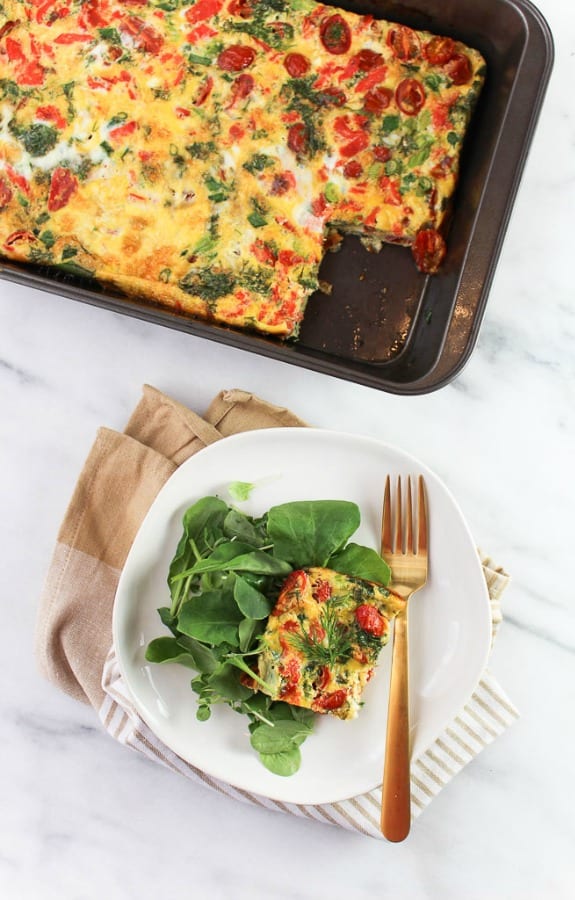 Smoked Salmon and Dill Sheet Pan Frittata, Julie Harrington, RDN (shown above)
Turmeric Salmon Oat Cakes, Maggie Michalczyk, RDN, Once Upon a Pumpkin
Cedar Plank Grilled Salmon with Cucumber, Dill Yogurt Sauce, Sarah Anzlovar, RDN, Sarah Gold Nutrition
Ahi Tuna Rice Bowl with Mango, Brynn McDowell, RDN, The Domestic Dietitian
Fish Sources of Omega-3s
While some of the seafood featured in these recipes is not super high in omega-3s (like shrimp, tilapia, and haddock) they are still nutrient-rich, healthy protein choices. Your best bet is to make sure you choose some seafood rich in omega-3s and mix up recipes for fun and flavor. This chart from the Seafood Nutrition Partnership will help you determine which fish is the richest in omega-3s.