Whether you're making the most of the last days of summer, or getting ready for fall, these Joy Bauer mocktail recipes for LaCroix will liven up your drink choices.
Joy Bauer, MS, RDN, CDN, is one of the nation's leading registered dietitians and is the nutrition and healthy lifestyle expert for the TODAY show. She is the host of NBC's Health+Happiness show, and has her own Amazon Live show, Health, Happiness, Joy!
Joy also works with LaCroix as a media spokesperson, so I asked her to share a few key hydration tips and some of her favorite mocktail recipe creations using LaCroix.

(This is not a sponsored post; I was not compensated to share this content).
4 Hydration Tips from Joy Bauer
Regardless of the temperature outside, staying well-hydrated is important for overall health. Proper hydration:
helps keep your immune system strong
wards off fatigue
enhances metabolism
boosts productivity
fuels muscle
cushions joints
and so much more!
But when the weather cools off, it can be easy to forget to drink as often as we should. Joy's practical hydration strategies seamlessly mesh with her mocktail recipes, because they can be enjoyed anytime, anywhere!
Here are four tips from Joy to keep your fluid intake up.
Tip #1: Jazz up plain water
"Water can get a little boring, but it's easy to find creative ways to make the sip more appealing. I often add fresh fruit or veggie slices to my glass—cucumber, lemon, lime, berries, oranges, and so on," says Joy.
Tip #2: Make fancy ice cubes
A favorite tip from Joy: "I also like to make crafty fruit and herby ice cubes. Simply add blueberries or sliced strawberries, or toss a few pieces of a chopped orange or pineapple into each ice cube compartment along with minced herbs of choice (cilantro, basil, dill, parsley, rosemary… anything goes).
Freeze and then drop a few cubes into your glass for a pop of color and wonderful flavor infusion as they melt."
Tip #3: Find a cool, reusable water bottle
"There is a reusable water bottle style for everyone—pink, teal, black, matte, you name it. Tote your beauty along with you wherever you go—the office, your car, the gym. When you first start using it, figure out how many times you'll need to refill it to reach your daily hydration quota," advises Joy.
Tip #4: Sip from an elegant glass
Joy suggests using chic glassware for that special feeling: "This will heighten your at-home dining experience. Glam up your meal and lift your mood at the same time!"
4 Joy Bauer Mocktail Recipes
LaCroix is a common fan favorite as a sparkling water choice. Their variety of flavors offers the perfect base for mocktails (or cocktails!). They also pair well with fruit, veggies, or herbs to entice your tastebuds and encourage you to stay hydrated.
1. Pamplemousse Mojito Mocktail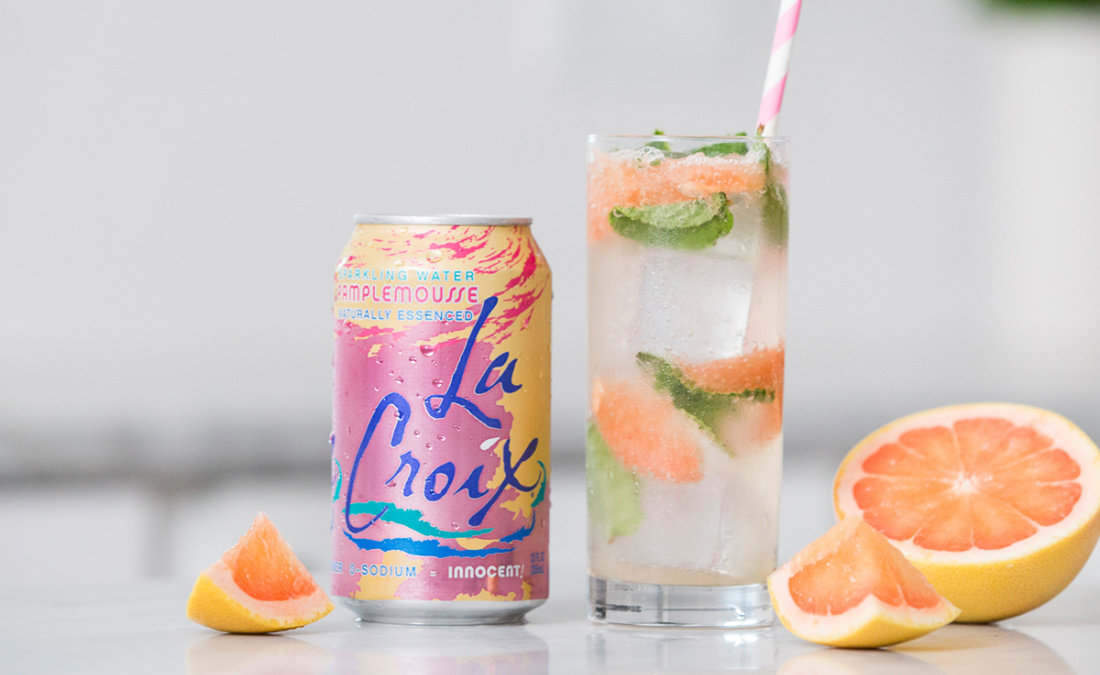 This mocktail offers a delightful twist on the classic mojito. Indulge in the refreshing flavors of summer with this enticing Pamplemousse Mojito Mocktail recipe from Joy Bauer. LaCroix's Pamplemousse flavor tastes like grapefruit with vibrant citrus notes.
Freshly squeezed grapefruit juice takes center stage and is paired with fragrant mint leaves. Whether you're looking for a revitalizing afternoon treat or a vibrant mocktail option for gatherings, this mocktail is a rejuvenating choice.
 INGREDIENTS:
8 fresh mint leaves
½ pink grapefruit, sectioned, skin and flesh removed
1 tablespoon lime juice
½ cup ice cubes, crushed
½ to ¾ cup or more LaCroix Pamplemousse Sparkling Water 
DIRECTIONS:
To the bottom of the glass, add whole mint leaves, grapefruit sections and lime juice. Use a muddler to gently crush ingredients. You'll need just about four to five turns, or until you start to smell a minty scent. Add the crushed ice and LaCroix Sparkling Water. Stir and enjoy. 
2. Guavarita Mocktail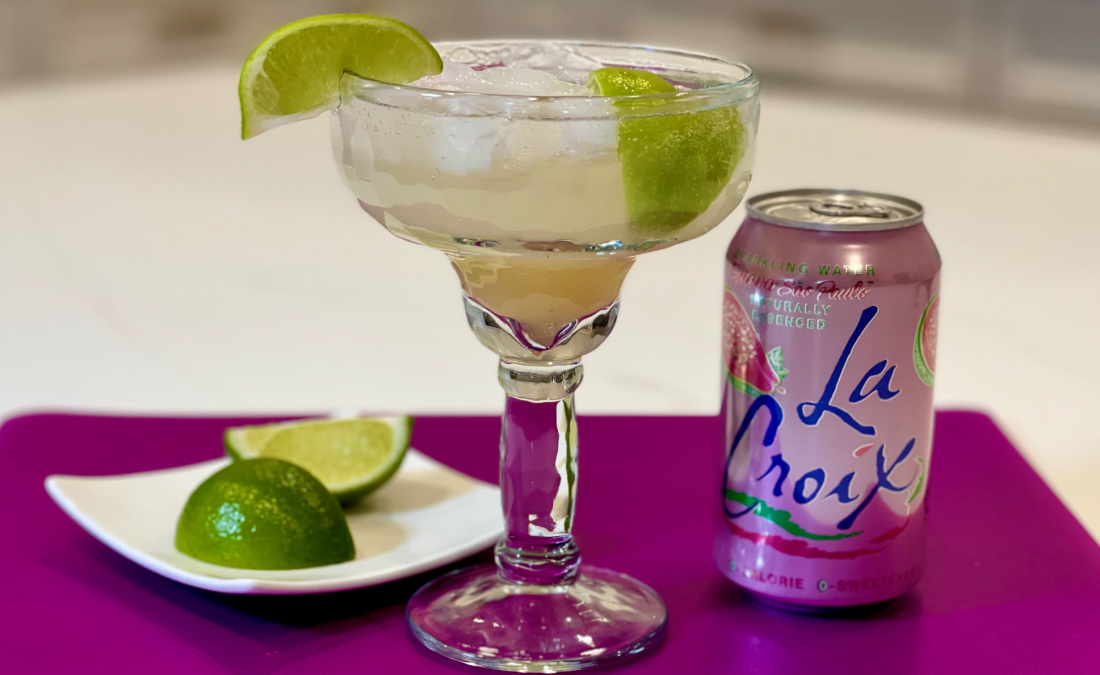 Experience a tropical getaway with every sip of this 3-ingredient Guavarita Mocktail. It is a delightful twist on the classic margarita, infused with the allure of guava nectar and lime.
The Guava São Paulo LaCroix tops off the flavors for a refreshing and not-too-sweet hydrating beverage.
INGREDIENTS:
¼ cup guava nectar
1 tablespoon fresh lime juice
1 can Guava São Paulo LaCroix Sparkling Water
DIRECTIONS:
In a margarita glass, mix guava nectar and lime juice. Add ice cubes and drop in a squeezed wedge of lime. Top off with  LaCroix Sparkling Water and garnish the glass rim with an optional lime slice.  
3. Raspberry Blueberry Slushy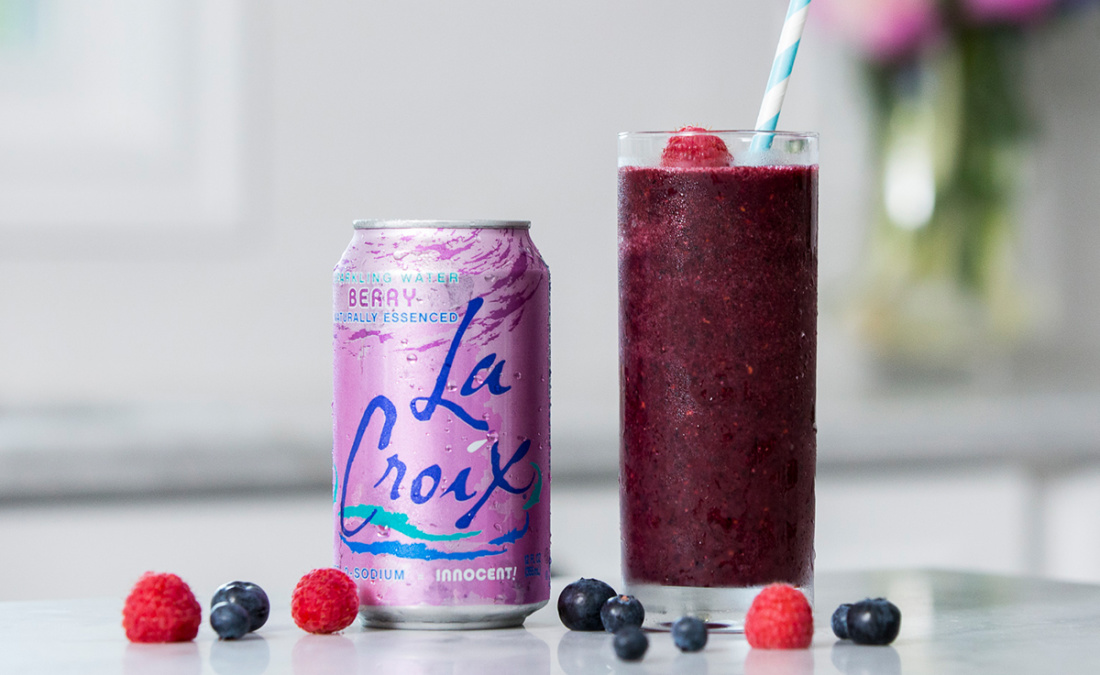 This vibrant slushy only requires three ingredients and is full of natural antioxidants from the raspberries and blueberries. With no added sugars and the fiber content from the berries, this slushy won't cause blood sugar spikes.
Plus, who doesn't love a slushy to stay hydrated? Joy Bauer's Raspberry Blueberry Slushy is a delightful treat that nourishes your body.
INGREDIENTS:
1½ cups frozen blueberries
1½ cups frozen raspberries
1 can (12 ounces) LaCroix Berry Sparkling Water
DIRECTIONS:
Place all ingredients in a blender and puree until thick and smooth. Pour into 2 glasses and garnish with a few floating berries.
4. Cucumber Lemon Spa Water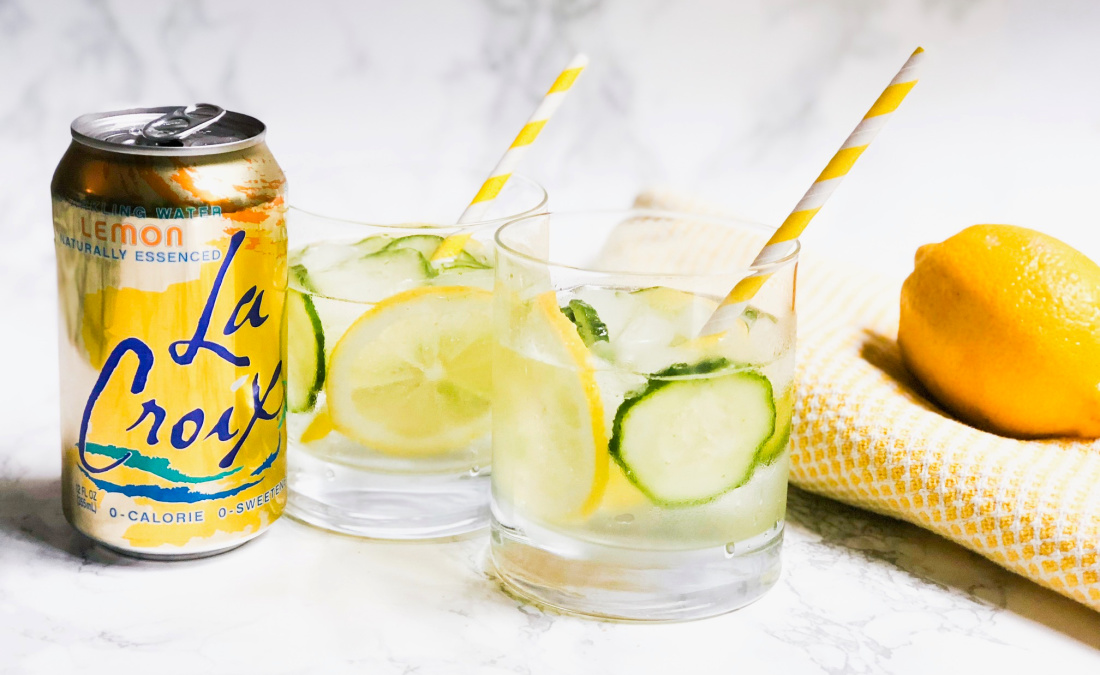 Last but not least, elevate your hydration game with this cucumber lemon water. This rejuvenating spa water drink brings together the crisp essence of cucumber and the zesty brightness of lemon with a range of nutritional benefits.
Cucumbers are known for their high water content and lemon introduces vitamin C, an essential antioxidant that supports immune function and skin health. This spa water contains no added sugars, making it a hydrating alternative to sugary beverages.
INGREDIENTS:
6 to 7 thin slices hot house cucumber
2 thin slices fresh lemon, seeded
1 can LaCroix Lemon Sparkling Water
Mint or basil for garnish (optional)
DIRECTIONS:
Place the cucumber and lemon slices in the bottom of a large drinking glass. With the back of a wooden spoon, gently crush the ingredients for about 20 seconds, releasing their essential oils and juices. Pour the Lemon LaCroix into the glass and top with ice, if desired. Add herbs for garnish.
Explore More Mocktails and Cocktails
As you can see, these Joy Bauer mocktail recipes with LaCroix show just how easy it is to stay hydrated and to transform sparkling water into elegant beverages. Use this as inspiration this fall with your other favorite sparkling water flavors.
Here are more nutrient-packed beverage choices to try: