When fall is in the air and you're feeling inspired to cook delicious seasonal meals, snacks, and treats, choose one of these dietitian-created fall recipes!
What's not to love about fall? Thanks to the crisp air, golden colors, and cozy sweaters, we all start to feel the twinge of anticipation for the season ahead. With so many beautiful changes happening this time of year, fall flavors also begin to make an appearance.
You guessed it — as soon as September rolls around, pumpkin everything arrives in all of its sunset glory and the internet becomes flooded with pumpkin coffee, pumpkin face masks, and everything else in between. However, as nutritious and tasty as pumpkin is, there are many other fall-related flavors that are just as delicious to eat.
What are these produce items and how can we use them in the kitchen? I decided that this was the perfect time to ask some of my registered dietitian blogger friends to share their go-to fall recipes featuring apples, squash, cinnamon, pumpkin, and more.
So, get ready to cook the heck out of fall with this incredible collection of nutritious fall-inspired recipes!
Fall Breakfast Recipes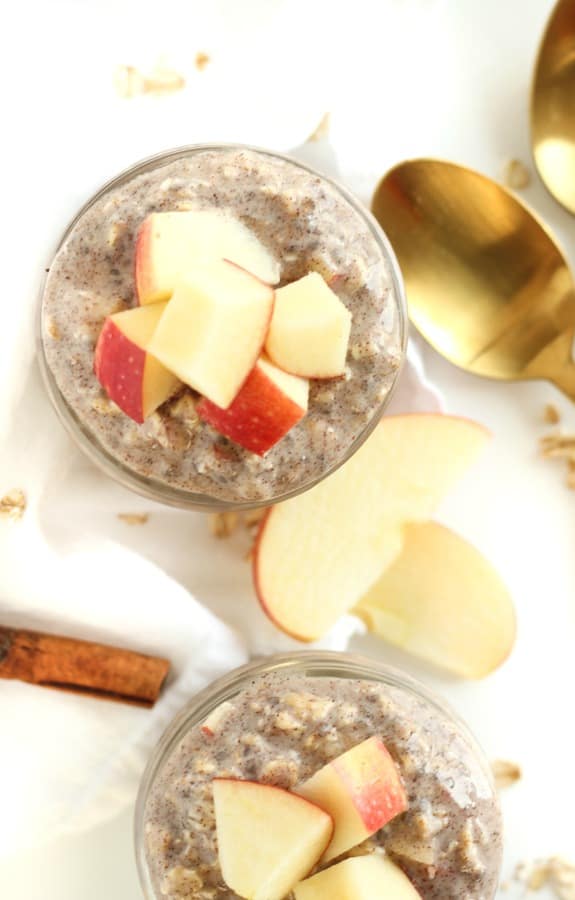 Apple Pie Overnight Oats, Kaleigh McMordie, RD, Lively Table (shown above)
Pumpkin Pie Smoothie, Willow Jarosh, RD, C&J Nutrition
Pumpkin Seed and Chia Granola, Karman Meyer, RD, LD, The Nutrition Adventure
Pumpkin Chocolate Granola, Laura Lomax, RD, Greens & Grains Nutrition
Pumpkin French Toast, Anne Dunaway Teh, RD, My Menu Pal
Appetizers/Side Dishes for Fall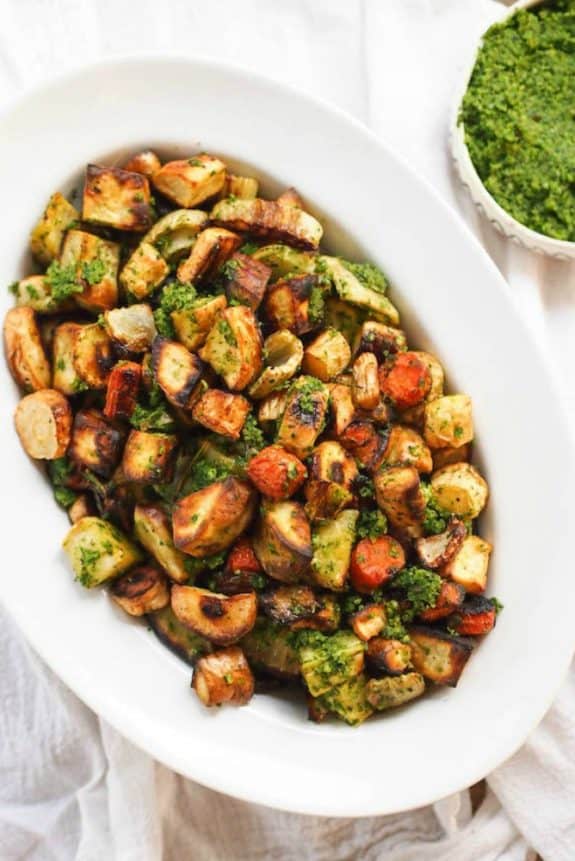 Roasted Fall Vegetables with Kale Hazelnut Pesto, Rachael Hartley, RD, Rachael Hartley Nutrition (shown above)
Sweet White Bean Pumpkin Dip, Caitlin Perez, RD, Nourished NCE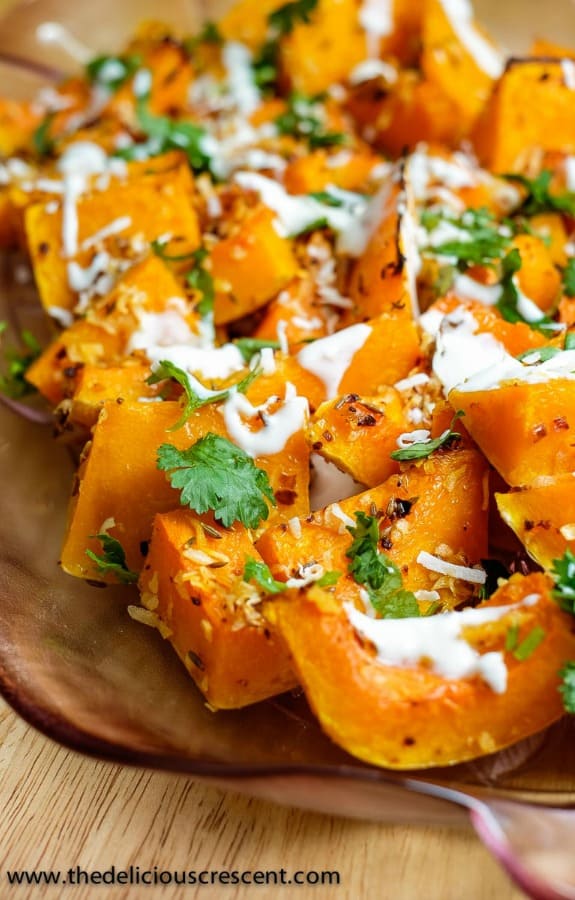 Coconut Cumin Ginger Roasted Butternut Squash, Roxana Begun, RD, The Delicious Crescent (shown above)
Creamy Butternut Squash Mac & Cheese with Greens (plant-based), Patricia Bannan, MS, RDN
Festive Roasted Acorn Squash, Maria Adams, RD, Halsa Nutrition 
Fall-Inspired Salads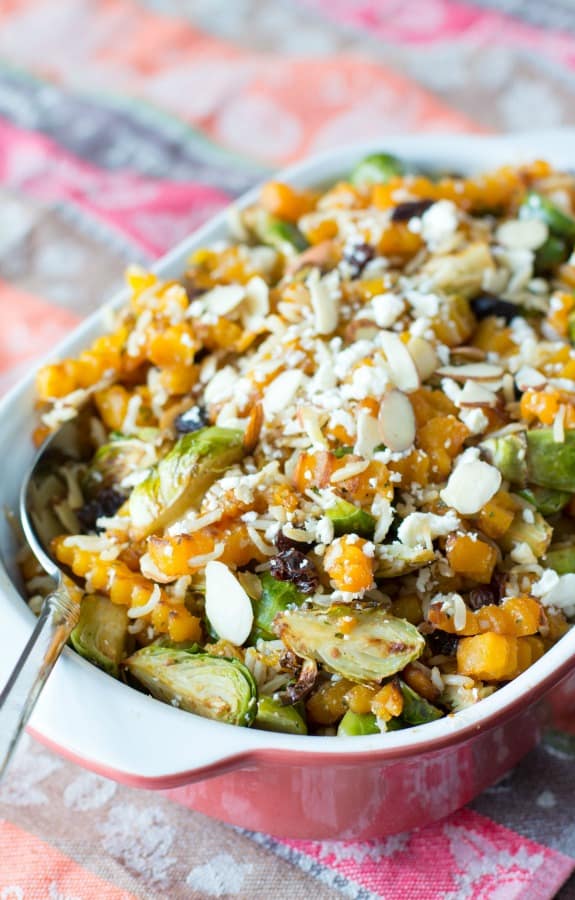 Oven Roasted Butternut Squash and Brussels Sprout Salad, Kelli Shallal, RD, Hungry Hobby (shown above)
Butternut Squash, Beet and Barley Salad with Apple Maple Vinaigrette, Sarah Schlichter, RD, Bucket List Tummy
Fall Salad Bowl with Roasted Butternut Squash, Marie Dittmer, RD, Healthy Ideas Place
Red Kuri Squash and Quinoa Salad with Maple Dijon Dressing, Patricia Bannan, MS, RD
Fall-Themed Soup
Crockpot Pumpkin Chili, Jodi Danen, RD, Create Kids Club (shown above)
Vegan Turmeric Pumpkin Soup, Kara Lydon, RD, The Foodie Dietitian
Genius Butternut Squash Soup, Katie Morford, RD, Mom's Kitchen Handbook
Butternut Squash, Apple, and Pear Soup, Liz Weiss, MS, RD, Liz's Healthy Table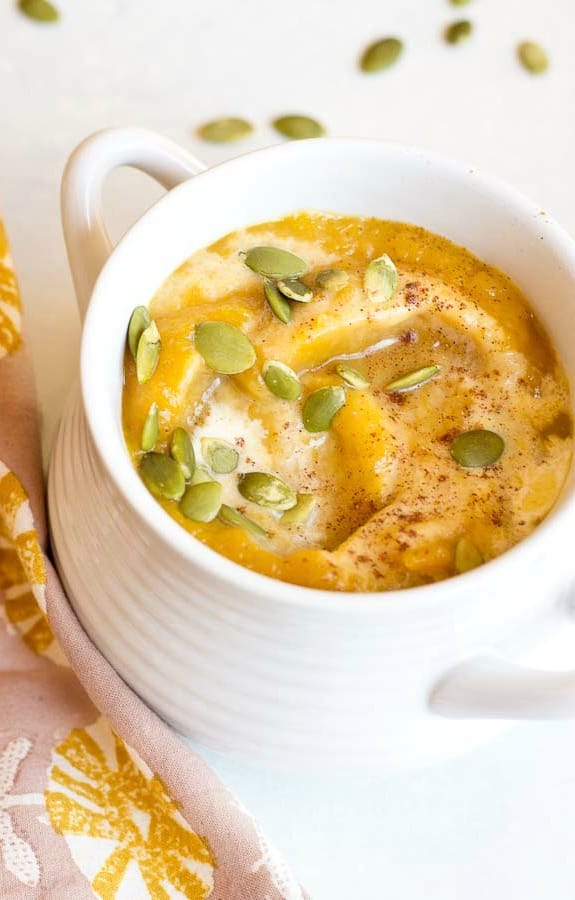 Vegan Autumn Glow Soup, Kristina La Rue, RD, Love & Zest (shown above)
Copycat Panera Autumn Squash Soup, Kara Golis, RD, Byte Sized Nutrition
Fall-Inspired Entrées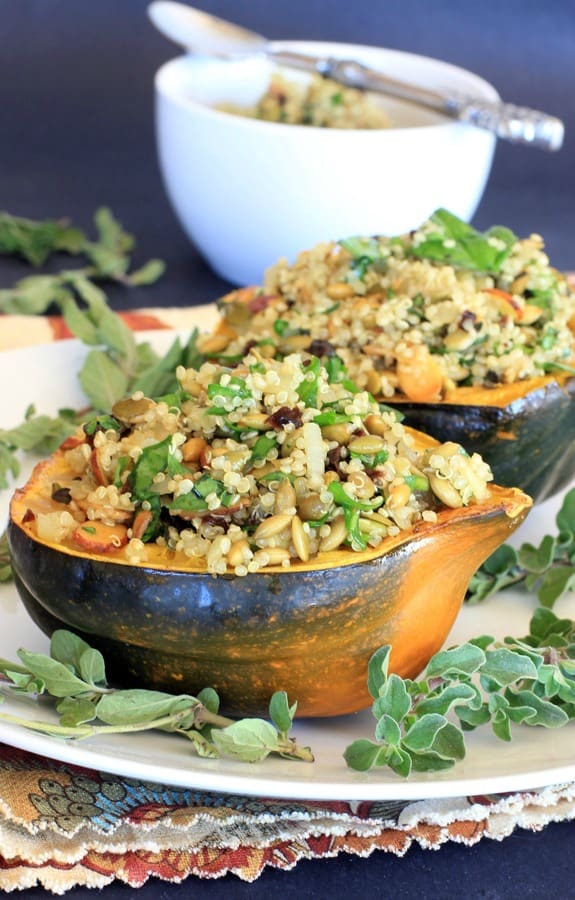 Acorn Squash Stuffed with Pumpkin Seed & Cherry Quinoa Pilaf, EA Stewart, The Spicy RD (shown above)
Roasted Squash and Kale Potato "Lasagna", Rachael Lynch, RD, Potato Goodness
Sautéed Brussels Sprouts with Apples and Chicken Sausage, Julie Harrington, RD, RDelicious Kitchen
Acorn Squash Stuffed with Sage Lentils, Sharon Palmer, RD, The Plant-Powered Dietitian
Desserts for Fall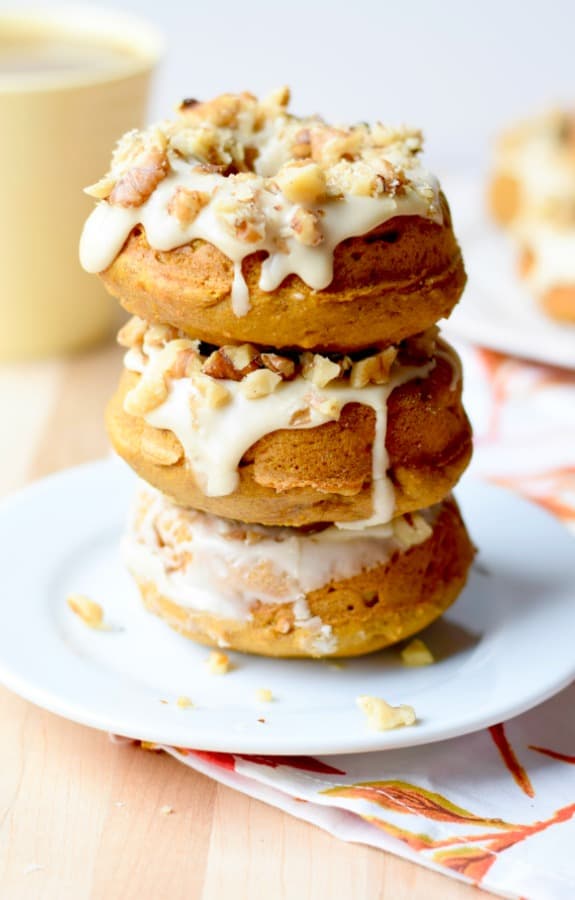 Maple Walnut Pumpkin Donuts, Elizabeth Ward, MS, RD, Better is the New Perfect (shown above)
Spiced Carrot Cake Muesli Energy Poppers, Patricia Bannan, MS, RDN
Pumpkin Spice Meringue Cookies, Jessianna Saville, RD, Kidney Grub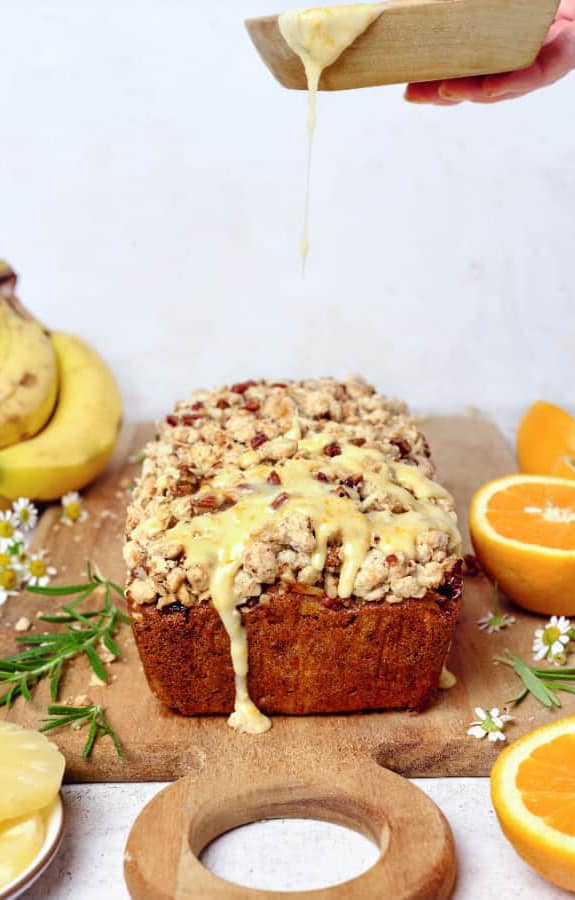 Hummingbird Loaf, Patricia Bannan, MS, RDN (shown above)
Dark Chocolate Pumpkin Muffins, Christy Wilson, RD, Christy Wilson Nutrition
No Bake Chocolate Pumpkin Oat Bars, Katie Pfeffler-Scanlan, RD, One Hungry Bunny