Creating new kids lunchbox ideas doesn't have to leave you feeling drained and overwhelmed. Instead, fall back on this list of ideas and recipes I've compiled from dietitians. 
As summer draws to a close, it's time for new school supplies, fresh haircuts, and maybe a trendy outfit or two. It's also the perfect time to freshen up your kids' lunches with some healthy and fun recipes. Not only can packing a smart lunchbox be easier than you think, it's a great way to get your kids involved in the kitchen and teach them about nutrition from a young age.
To give you some fresh ideas, I asked my dietitian blogger friends to share their favorite back-to-school lunchbox ideas. The recipes offer a variety of benefits for your child's school lunch. Plus, they are not only nutritious, but also kid-friendly and easy to prepare. From egg muffins, to bagel kabobs, to trail mix cookies — these tasty recipes are sure to be a lunchbox hit with your little ones, as well as keep their minds and bodies running at peak performance. 
Jump to Back-to-School Kids Lunchbox Categories
To get inspiration for a certain lunchbox addition, jump to one of the sections below: 
Lunchbox Breakfast Ideas 
Whether you were running late and didn't have time to serve breakfast, or your kids just love the flavors of the first meal of the day, here are some nutritious options to add to the mix.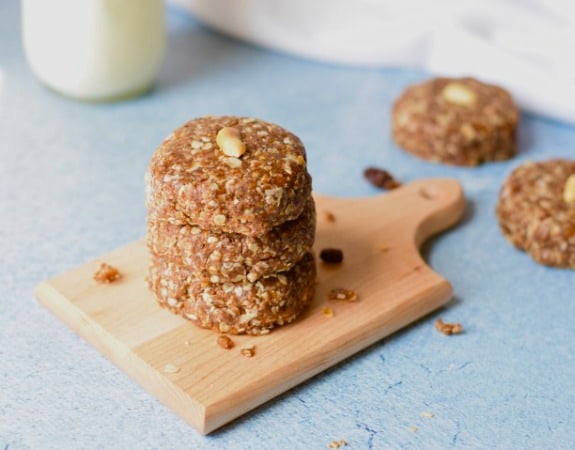 No-Bake Oatmeal Raisin Breakfast Cookies, Elizabeth Ward, MS, RD, Better is the New Perfect (shown above)
Mediterranean Feta & Quinoa Egg Muffins, EA Stewart, RDN, The Spicy RD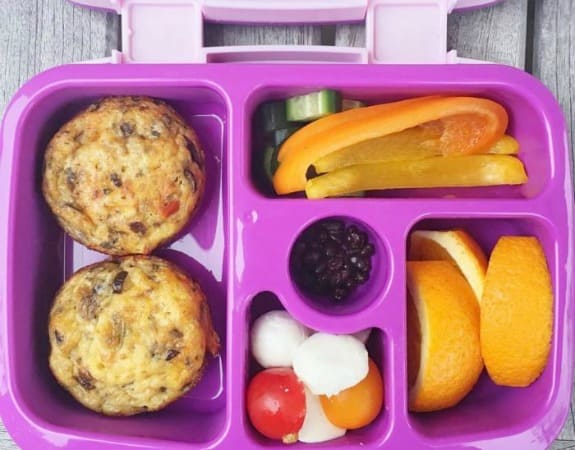 Easy Veggie Egg Muffins, Jessica Levinson, MS, RDN (shown above)
Ham and Cheese Egg Muffins, Jessica Ivey, RDN 
Lunchbox Snacks
Including snacks in your child's lunchbox keeps them energized throughout the day. From wholesome fruit slices with dip, to easy-to-pack granola bars, having a variety of nutritious options on hand ensures our little ones are fueled and ready to conquer their school day!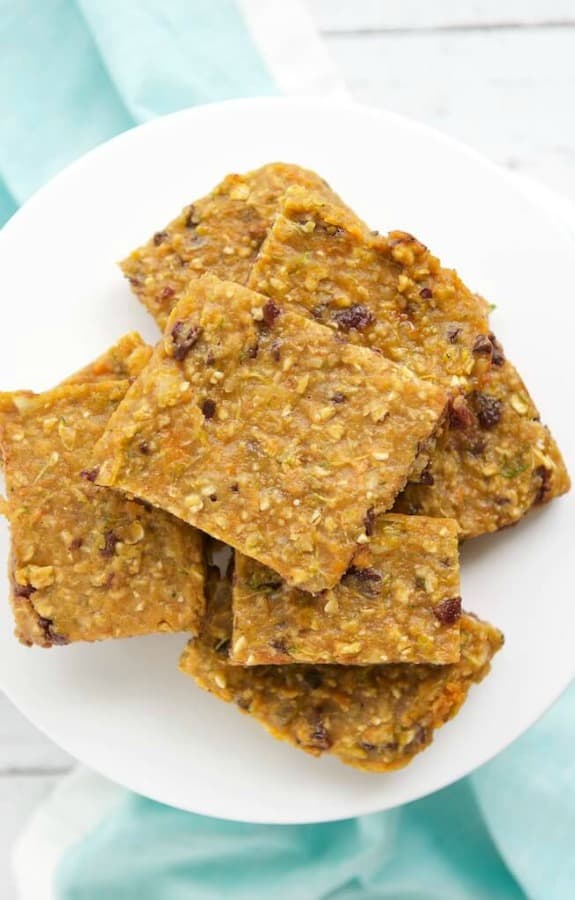 Hidden Honey Snack Bars, Jenna Braddock, RDN, Make Healthy Easy (shown above)
Veggie and Bean Quinoa Bites, Jessica Levinson, MS, RDN
Four-Ingredient Cheesy Zucchini Bites, Dara Gurau, RDN, How to Eat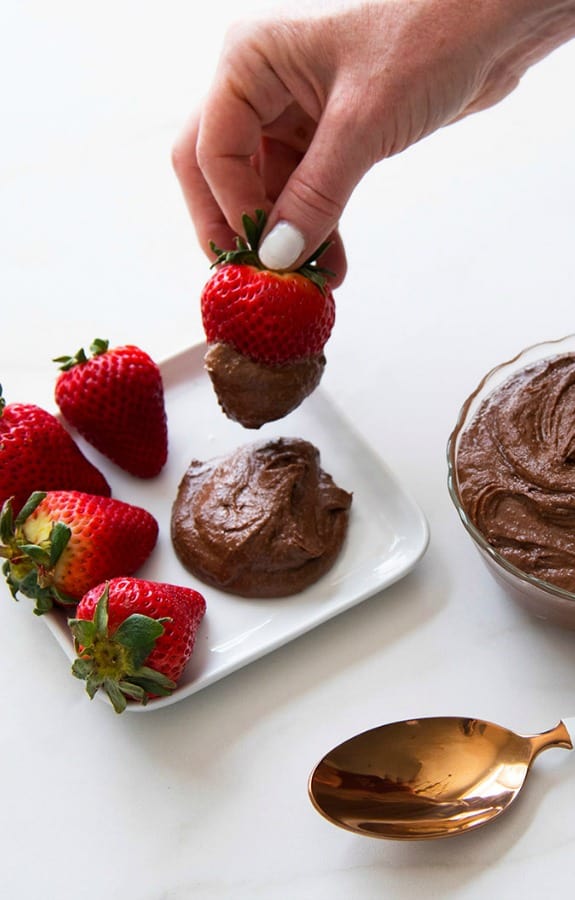 Chocolate Hummus, Judith Scharman, Foods with Judes (shown above)
Broccoli Hummus Snack Bites, Jennifer Hunt, RDN, Healthy Inspiration
Lunchbox Salads 
Salads can be a lifesaver for busy moms, especially when it's simply repurposing leftovers from last night's dinner. They offer a healthy and convenient option for our kids' lunches while minimizing food waste. Plus, they are a great veggie source for the day.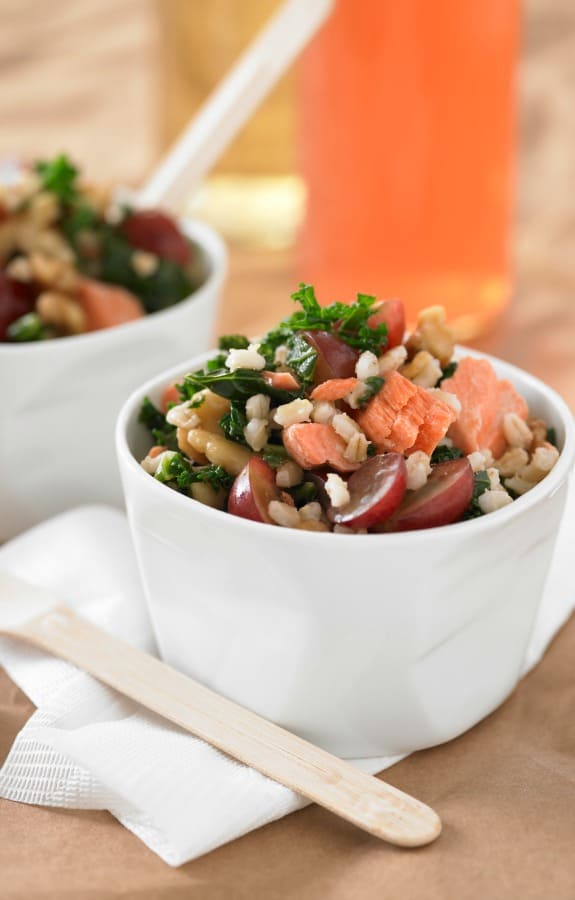 Grape and Salmon Power Salad, Patricia Bannan, MS, RDN (shown above)
Easy Chicken and Veggie Pasta Salad, Jessica Ivey, RDN
Beet and Goat Cheese Quinoa Salad, Jessica Levinson, MS, RDN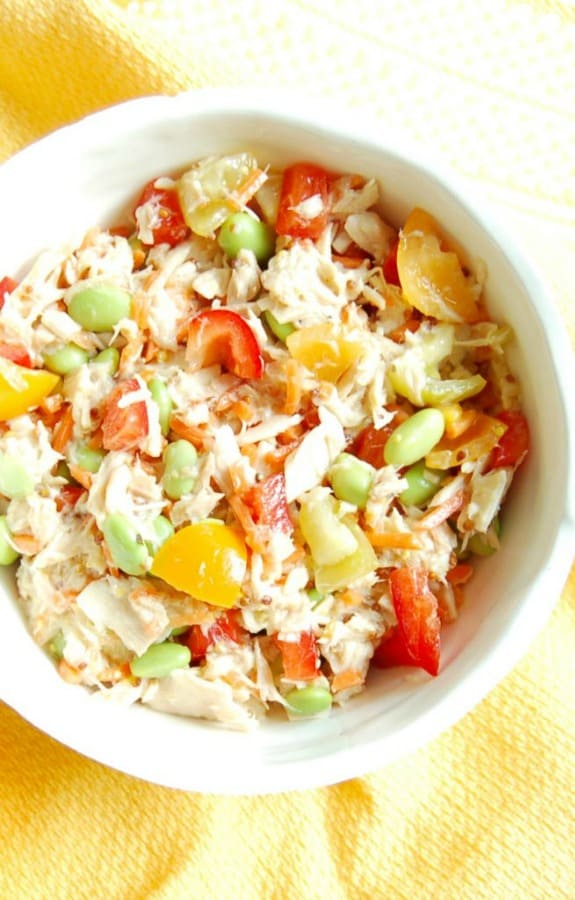 Quick & Easy Tuna Edamame Salad with Red Wine Vinaigrette, Jessica Levinson, MS, RDN (shown above)
Greek Tortellini Salad, Dara Gurau, RDN, How to Eat
Farro and Kale Salad with Shrimp, Patricia Bannan, MS, RDN
Lunchbox Entrees
The beauty of entrees is that they can offer a wealth of flavors while stile being simple and quick to make. These options include a mix of both animal and plant proteins, as well as creative ways to present the food.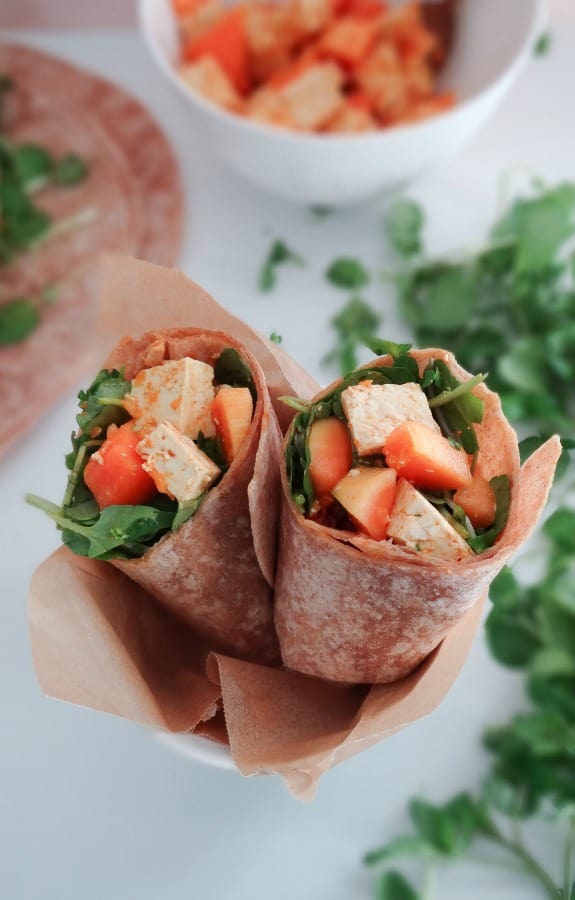 Curried Tofu Papaya Wraps, Sharon Palmer, RDN, The Plant-Powered Dietitian (shown above)
DIY Pita Pizza Lunchable, Sylvia White, RDN, Parenting Diabetes
Healthy and Homemade Hot Pockets, Holley Grainger, MS, RDN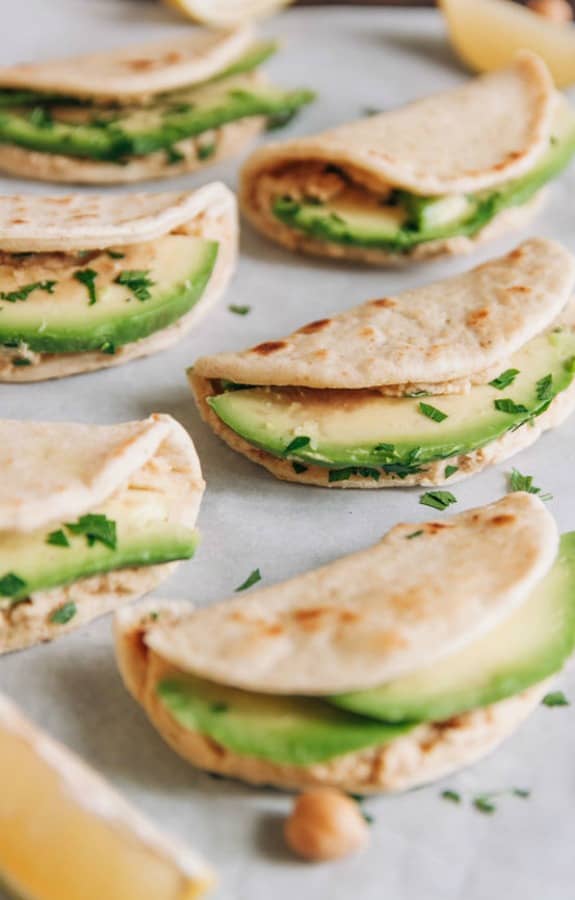 Mini Tacos with Avocado, Hummus, and Lime, Patricia Bannan, MS, RDN (shown above)
Lunchbox Bagel Kabobs 4 Ways, Katie Morford, RDN, Mom's Kitchen Handbook
Healthier "Lunchable" Pizza Lunchbox, Holley Grainger, RDN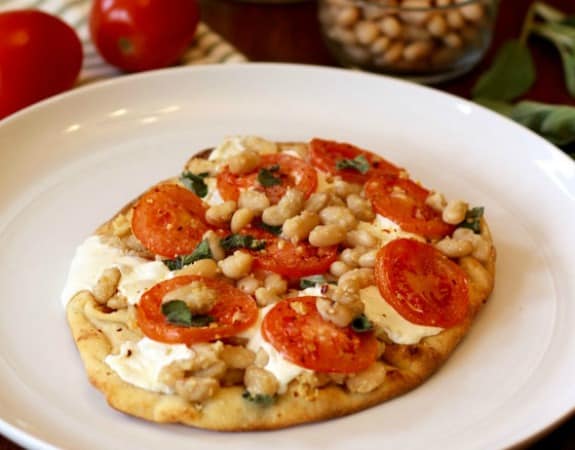 Tomato and White Bean Naan Pizza, Amy Gorin, MS, RDN, Amy Gorin Nutrition (shown above)
Peanut Butter & Jelly Skewers, Holley Grainger, MS, RDN
Little Lunch Box Cheese and Broccoli Calzones, Katie Morford, RDN, Mom's Kitchen Handbook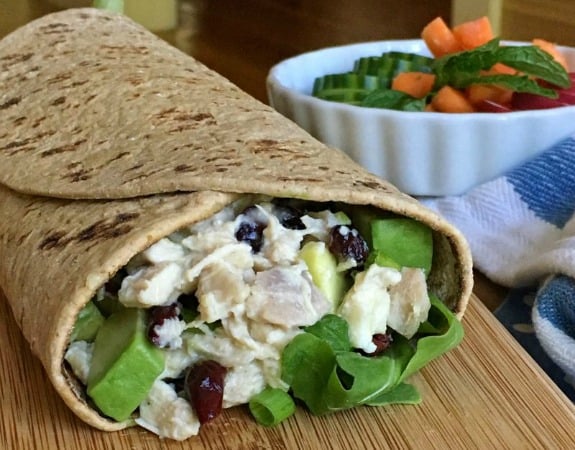 Lemony Chicken Avocado Wraps, Liz Weiss, MS, RDN, Liz's Healthy Table (shown above)
Thai Shrimp Rolls with Sweet Chili Peanut Sauce, Patricia Bannan, MS, RDN
Easy Cheesy Thermos Beans, Katie Morford, RDN, Mom's Kitchen Handbook
Kids Lunchbox Treat Ideas 
A lunchbox isn't complete without a healthy treat! These recipes are made with minimal added sugar (if any at all!), and are the perfect serving size to satisfy your kid's sweet tooth.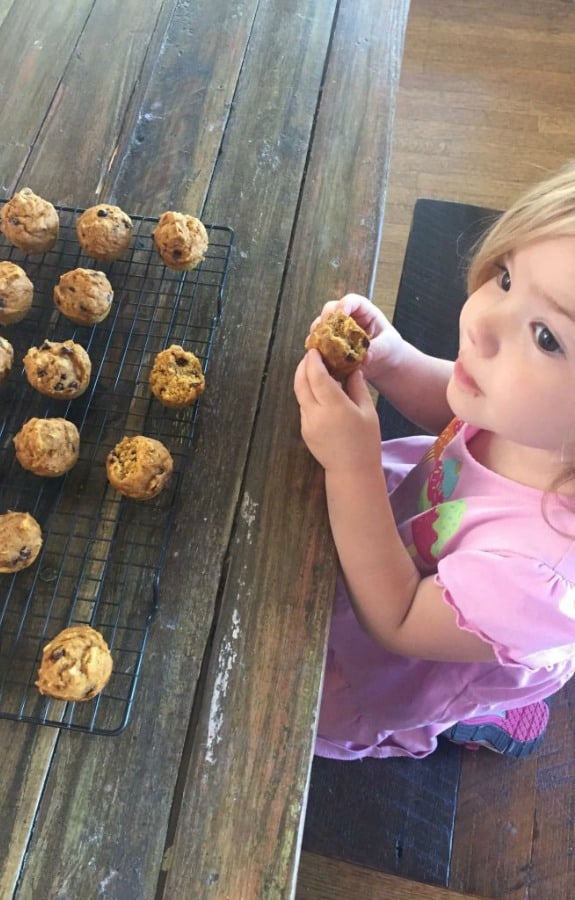 Pumpkin Chocolate Chip Muffins, Holley Grainger, MS, RDN (shown above)
Oatmeal Date Balls, Jennifer Hunt, RDN, Healthy Inspiration
Trail Mix Cookies, Kathy Siegel Nutrition
Which Lunchbox Ideas Will You Try First?
Incorporating a variety of options into your back-to-school lunchbox arsenal keeps your child's taste buds excited but also supports their nutritional needs. The balanced combination of these meal elements ensures they have the energy and focus to make the most of their school day.
Use these creative and dietitian-approved ideas to send your kids off to school with love-packed, nutritious lunches that keep them fueled and ready to tackle whatever challenges the day may bring.