If you're looking for an extra spark this February 14th, these Valentine's Day ideas have you covered from delicious recipes to romantic adventures.
Valentine's Day is a time to show that special someone how much you love and appreciate them. While this can (and ideally should!) be done any day of the year, it's nice to go the extra mile on February 14th and surprise your significant other with something extraordinary. Even the smallest gifts can have a long-lasting impact. So, here are my top Valentine's Day ideas that can boost your health and your heart.
Go Dark With Your Valentine's Day Chocolates 
Chocolate lovers rejoice! Milk chocolate may win the hearts of many, but don't rule out dark chocolate before deciding on that winning box of treats for your special someone. Studies show that dark chocolate contains healthy compounds, including flavonoids. These compounds may help prevent heart disease, enhance immune systems, and give us an overall feeling of well-being. A win-win for your health and your relationship! If you can't quite come to terms with a full box of dark chocolate, look for an assorted box with both milk and dark.
If you're in search of chocolate with a homemade touch, try making fresh fruit dipped in chocolate! It's a fun activity for even the most novice chefs.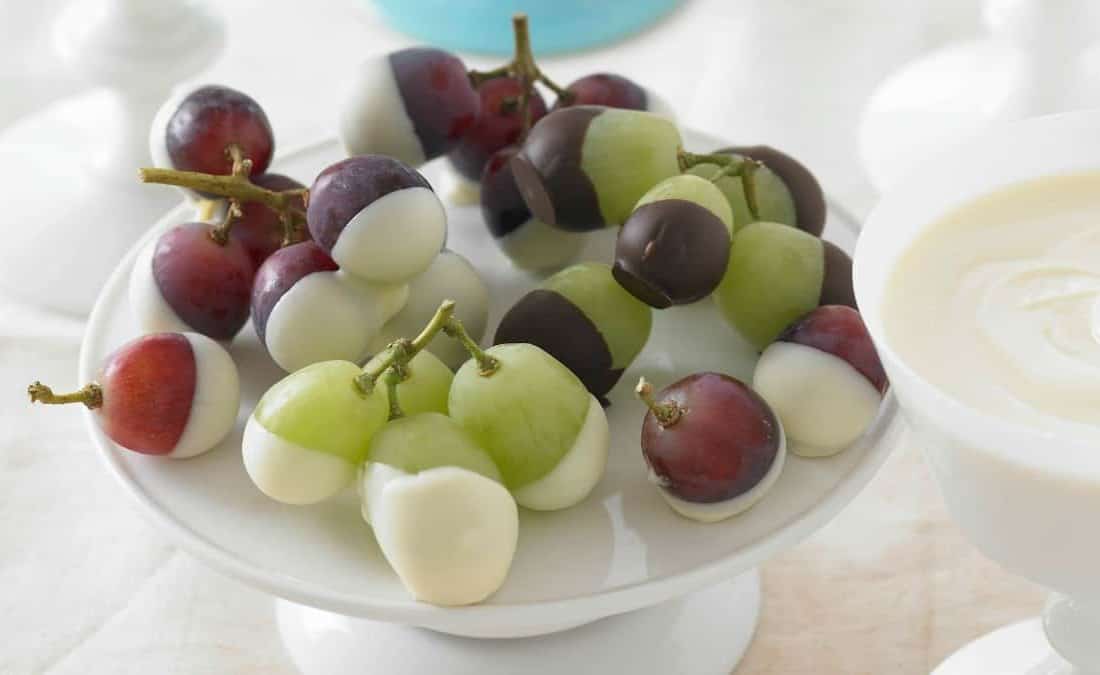 Get Festive with Red Wine
Instead of reaching for a fancy cocktail this Valentine's Day, try a glass of red wine instead. Research suggests a daily glass of red wine may help reduce the risk of blood clots and prevent cardiovascular vascular disease. You can thank anthocyanins for that, the powerful plant-based compounds in wine! If you're feeling extra creative, find a recipe that calls for some red wine too. On this heart-filled day, the more red color in your meals, the better.
Get Cookin' for a Delicious Valentine's Day Dinner 
Cooking at home can be just as extravagant as going out to eat. Plus, it's a great way to save money, avoid crowds, and focus on your partner. What's the key to a great night? Find an easy, nutritious entrée, watch some romantic movies, make a delicious dessert, and just have fun! It's hard to go wrong with your menu if it includes this Pan-Seared Salmon on Arugula Salad with Tahini-Citrus Dressing and Ricotta, Cranberry, and Pear Mini Tarts combo.
Have fun with your dinner prep and either brainstorm Valentine's Day dinner ideas together or surprise one another with different parts of the menu. If cooking at home doesn't quite cut it for the two of you, find a Valentine's day cooking class. Learn new skills while you enjoy making and eating a delicious meal together.
Go Outside the Box With These Valentine's Day Gifts 
Instead of going for traditional chocolate hearts, expand your horizons and seek out other Valentine's Day gifts. Why not give a piece of art, a day spa gift certificate, or a fashion accessory? Or, if active adventures are more your thing, gift a trip to a place that's been on both of your bucket lists. Even a road trip planned with fun stops along the way can pull at the heartstrings. It's a great way to show your significant other that you care, while still being thoughtful and creative.
Get Active for Your Valentine's Day Date
Take a timeout from your usual routine and get those sparks flying! Spending quality time together is one of the most meaningful gifts you can give. Plan an active winter outing like ice skating or sledding, or enjoy a romantic hike or walk on a nature trail. Take pictures along the way, find a frame you both like, and frame your picture for a new addition to your home. Movement and creativity can lead to great memories and make the heart grow fonder!
Happy Valentine's Day! How do you plan on celebrating this year?