Making a jaw-dropping cheese board is easier than you think! Here's how you can make a simple yet impressive DIY cheese board in just 3 easy steps.
You've seen them all over social media, and it's for a good reason. Cheese boards are not only pretty to look at, they are also a guest-worthy appetizer, snack, or even a light meal that everyone can enjoy. How do you make one at home that looks just as good and provides good quality nutrients as well? I'll show you the easiest way to make it a success every single time.
How to Make a Cheese Board
Ready to get started on your epic cheese platter? I promise you, it is easier than you think. All there is to it, is to break it down into these three separate elements.
1. Start with the Cheese
You can't make a cheese board without the cheese, right? Start building your platter by including a variety of different kinds of cheeses to please all tastes and preferences. What kinds of cheeses should you choose? A good rule is to include one of each from the different "families" of cheeses:
Aged: Cheddar, Swiss, Gruyere, or Gouda
Firm: Parmesan or Manchego
Soft: Brie, Burrata, or Goat Cheese
Blue: Roquefort, Stilton, or Gorgonzola
Choose your cheeses based on your crowd. If they aren't as familiar with different kinds of cheeses, go with more mild or familiar flavors. If you have a group of cheese enthusiasts, be a little more adventurous with your choices. Plus, if you have a few people in your crowd that are sensitive to lactose, you can suggest the aged and firm cheeses – as cheese ages, the lactose is broken down to trace amounts.
2. Add Some Crunch to Your Cheese Board
Once you have your cheese selections picked out, it's time to add some crunch! You'll need a vehicle for getting all those delicious cheeses to your mouth, so include at least two or more types of bread, crackers, or breadsticks on your board. For a nutrient boost, make it a goal to use whole grains for at least half of your selections. This will boost the fiber, vitamins, minerals, phytonutrients, and protein content. Some of my favorites include:
A fresh sourdough baguette
Whole-grain crackers
Italian breadsticks
Toasted whole-grain bread rounds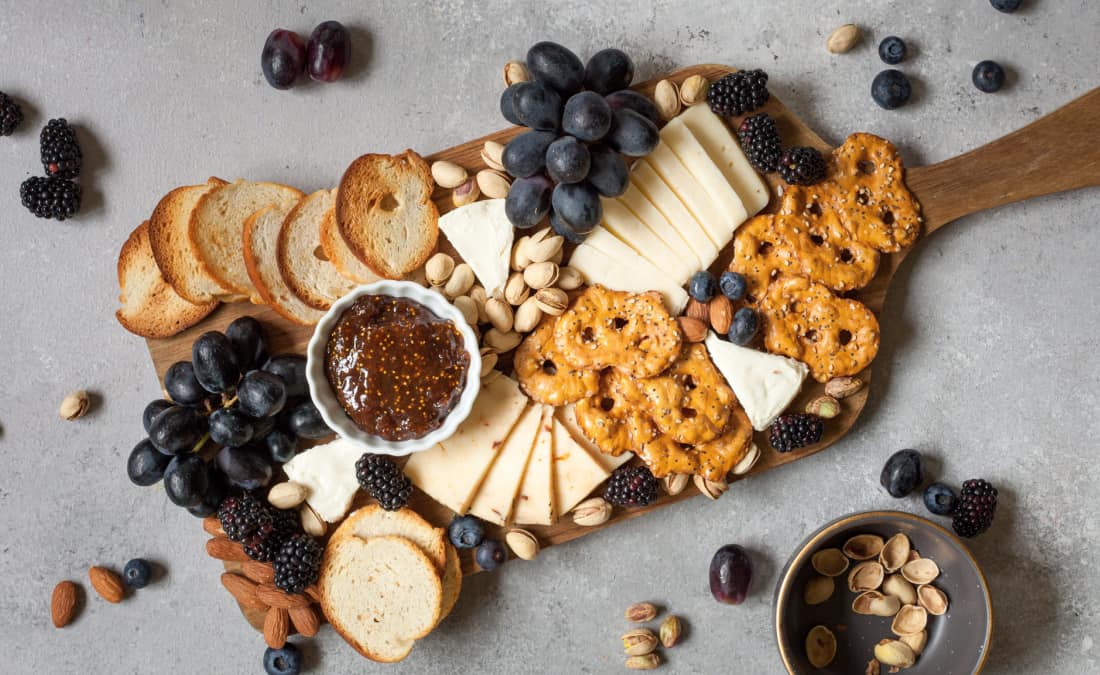 Bread and crackers aren't the only element of crunch you should include on your simple cheese platter. Include some other crunchy snacks for your guest to munch on, such as:
Roasted almonds
Cornichon pickles
Pistachios
Macadamia nuts

Pumpkin seeds
To balance your cheese board with vibrant colors, maximum nutrition, and reduce the over calories, make sure you include a variety of crunchy vegetables as well. Some favorites include:
Carrots
Celery 
Bell peppers
Snap peas
Cucumber
3. End with Something Sweet
The last step for making a DIY cheese board? Something sweet of course! Counterbalance the saltiness of your cheeses with some sweet elements like:
Fresh, seasonal fruits
Dried figs or apricots
Local honey
Fruit jams or preserves
Dark chocolate
Making a Healthy Cheese Board
While these elements of flavor and texture are key, keeping some of the nutritional elements in mind is important too! Having a well-balanced board means offering items that provide a mix of carbohydrates, proteins, and healthy fats.
Items like cheese and nuts provide protein. If you're interested in making a charcuterie board and want to add in some animal meats to this mix, look for organic meats lower in saturated fat. Nuts and seeds also double up as a source of healthy fats. And lastly, adding dried or fresh fruit and whole-grains is a great way to target some healthy carbohydrates and fiber. 
Covering the bases on each of these categories can appeal to your (and your guests') taste buds. Plus, it can help manage your hunger for the main course or serve as a great small meal to tide you over until your next snack or meal.
Looking for more DIY cheese board ideas?
That's it! Including these three elements on your homemade cheese board is a recipe for success whether it's a party of 1 or 100! Here are some of my favorite recipes to include!
Homemade Whole Wheat Focaccia Bread with Figs, Olives, and Rosemary
Salsa Verde Grilled Vegetables
Seedy Low-Carb Bread (gluten-free)
What would you include on your cheese board? Please share, I'd love to hear!