The grill isn't just made for burgers and dogs. These 6 fun and creative BBQ menu ideas will give you more reasons to fire up the grill this summer.
The summer doesn't officially start until you fire up the grill, right?! You may think of the classics like burgers, kebabs, and shrimp, but there is plenty of room on the grill for more fun and creative dishes, too. Try out any (or all) of these BBQ menu items and unique grilling ideas to turn any food into BBQ food!
The 6 BBQ Menu Ideas to Try This Summer
Grilled pizza
Grilled salad greens and veggies
Grilled avocado
Grilled potatoes
Grilled cheese
Grilled fruit 
1. Grilled Pizza
Who needs a pizza oven when you can cook it right on the grill! Not only do you get that smoky, flame-kissed flavor, but it will also help to keep your kitchen cool when those summer nights get hot and humid. 
How to make pizza on a grill:
Heat your grill on high, and wipe the grates with olive oil before adding your stretched out pizza dough directly onto the grill grates.
Add pizza dough to the grill and cook for a couple of minutes.
Once it starts to get brown, remove from the heat, and flip it over (so the grilled side is facing up).
Remove the pizza from the grill.
Top with sauce, cheese, and any other favorites, then place back on the grill.
Grill for another 2-3 minutes, or until the cheese is melted.
Slice it up and serve!
Want more pizza inspiration? Try out this Killer Veggie Pizza!
2. Grilled Salad Greens and Veggies
You heard that right, grilled salad! It's the perfect way to merge two summer classics into one delicious dish. While I'm not suggesting throwing a tossed salad onto the grill, I love giving that char-broiled flavor to some of my favorite salad-worthy veggies instead.
Try slicing romaine hearts in half lengthwise, and grilling for just 30 seconds to a minute, or just enough time to get a char on the leaves without them wilting. You can either serve this as is, wedge-style, or chop and serve once it cools. You can also give other classic salad veggies some grilled flavor, such as tomato halves, zucchini, peppers, and mushrooms, and serving them with your grilled romaine, or favorite salad green. 
Add some more summer-worthy salads to your menu with this Rainbow Salad with Toasted Pistachio Citrus Vinaigrette.
3. BBQ Grilled Avocado
Living in California means avocados are a staple in my house all year long – especially once the summer hits. One of my favorite ways to give them some extra summer TLC is to cook them up on the grill.
Simply slice an avocado in half, remove the pit, coat lightly with oil, and grill directly on the grates face down over medium heat for 4-5 minutes, or until slightly charred. Some of my favorite ways to serve up grilled avocados are filled with salsa, mashed up for guacamole, sliced over a salad, smashed on toast, or diced for a salsa.
Put those grilled avocados to work with these Sunny Side Up Avocado Toasts!
4. BBQ Potatoes
If the sounds of turning on the oven for a couple of baked potatoes doesn't sound all that appealing in the hot weather, try grilling them instead! 
You can cook baked potatoes on the grill just as you would in the oven. Wash, pierce with a fork, and wrap in foil before placing on grill over medium heat for about 1 hour, or until tender. If you want a new way to enjoy regular or sweet potatoes, you can grill them directly on the grates, too.
How to make quick bbq grilled potatoes
To speed up the bbq potatoes process, start by pre-cooking your potatoes in the microwave just until they are al dente, or softened slightly. Then slice them into wedges, toss with oil, salt, pepper, and garlic powder, and cook directly on a grill set on medium-high heat for about 5 minutes, or until golden brown.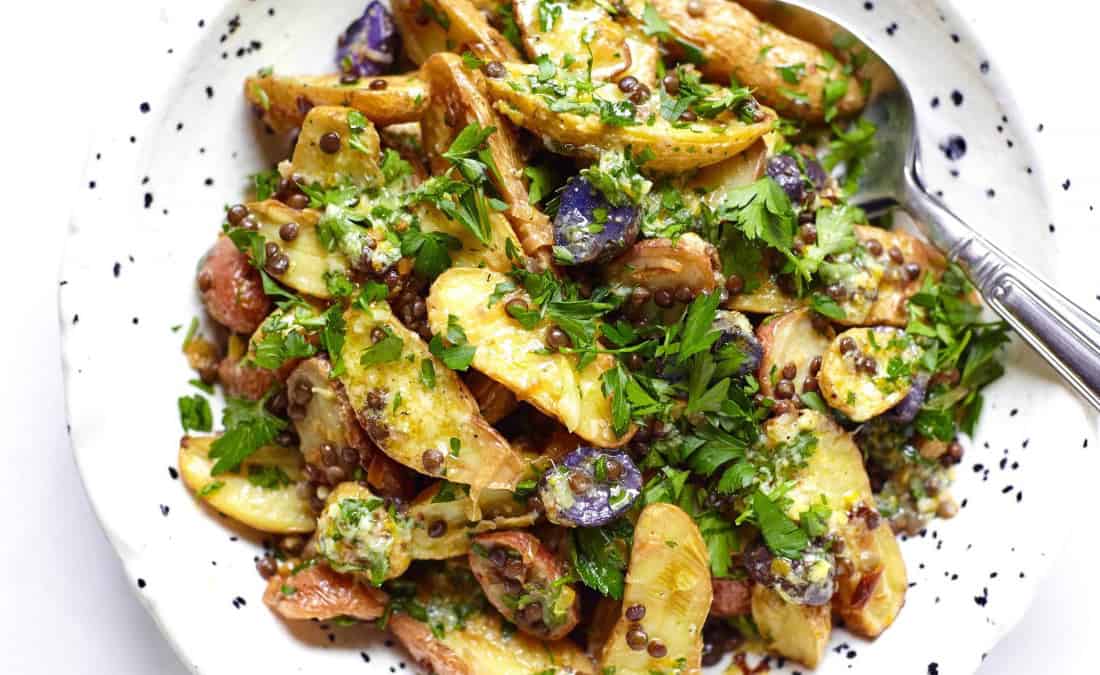 Use your grilled potatoes in this Warm Potato, Leek, and Lentil Salad for an added smoky flavor.
5. Cheese on the BBQ Grill
The BBQ brings a whole new meaning to grilled cheese! While this method of cooking doesn't work for any and every kind of cheese, there are a few types that can withstand the heat to give you a smoky flavor, and melty texture all in one. 
Some of the best cheeses to grill include halloumi, paneer, and provolone, since they have higher melting points, and can hold up to cooking over a flame. You can serve up your grilled cheeses over salads, as a burger topping, or with some toasted bread or whole-grain crackers. 
Enjoy a grilled burger AND cheese with these Red Chile and Cheese Stuffed Turkey Burgers.
6. Grilled Fruit
Let's not forget about something sweet! Much like vegetables, many fruits can be cooked on the grill as well. This helps to bring out their sweetness, while also giving them that telltale smoky flavor that only a grill can provide. 
Some of my favorite fruits to grill are peaches, pineapple, nectarines, plums, melon, and strawberries. Summer fruit galore! You can make it quick and easy to grill all kinds of fruits by skewering them onto metal kebabs and cooking over medium heat for 2-3 minutes. Turn them often until softened and browned. Try serving your grilled fruit dipped in yogurt, as an ice cream topping, drizzled with honey, or as a sweet element to salads, sandwiches, or burgers.
This Grilled Peach and Watermelon Salad is a refreshing way to enjoy grilled fruits!
Which of these summer BBQ menu ideas would you try first?