Here are a few of my favorite and best vegetarian and plant-based appetizers that use just 5 ingredients or less to make.
Making plant-based appetizers is not as complicated as you may think. These simple dishes make it easy to eat nutritious and satisfying foods that don't ruin your appetite before your meal.
Jazzed Up Veggie Trays
We're taking the classic veggie sticks and dip trays up a level. Make them more interesting and creative by changing up the kinds of veggies and dips you offer. A good rule of them is 3 different kinds of vegetables, and 2 different kinds of dips to give an array of options. Try different textures for the veggies – such as raw, roasted, and dehydrated. For dips, offer up a more traditional flavor, and one unique flavor to appease all kinds of tastes. Here are a few of my favorite veggie tray ideas:
Roasted carrots
Beet chips
Raw jicama sticks
Garlic roasted broccoli
Tri-color vegetable chips
Endive leaves
Roasted red pepper hummus
Baba ganoush 
Muhammara – a roasted red pepper and walnut dip
Olive tapenade
Lemon tahini sauce
Looking for a kid-friendly holiday appetizer? This Grapeful Fruit Turkey with Cinnamon Yogurt Dip is a fun & festive idea!
3 Ingredient Vegetarian Canapés
Canapés are one of the best plant-based appetizers since they are bite-sized, and require just 3 ingredients to pull together. Here's how I usually assemble them:
Ingredient #1: Start with a base
I usually opt for a whole grain cracker or a grilled vegetable coin (sweet potato, zucchini, and golden potatoes are my faves). This will hold all the toppings, so make sure it is still sturdy enough, and not too flimsy to make eating them a lot less messy.
Ingredient # 2: Top with a dip
Add some kind of dip or spread to your edible base to add flavor, and to hold your final topping in place. Some of my go-to options are:
Hummus
Olive tapenade
Pico de gallo
Soft cheese or cheese spread
Prepared bruschetta
Basil pesto
Ingredient #3: End with something crunchy
I love having different textures all in one bite, so I will usually top my canapés with something crunchy. Some ideas are:
Crushed walnuts or pecans
Finely chopped veggies (especially carrot or cucumber)
Chopped apple or pear
Hemp seeds or sunflower seeds
Always wanted to make a homemade cheese board? Here's how in just 3 easy steps!
Mini Avocado Toast Bar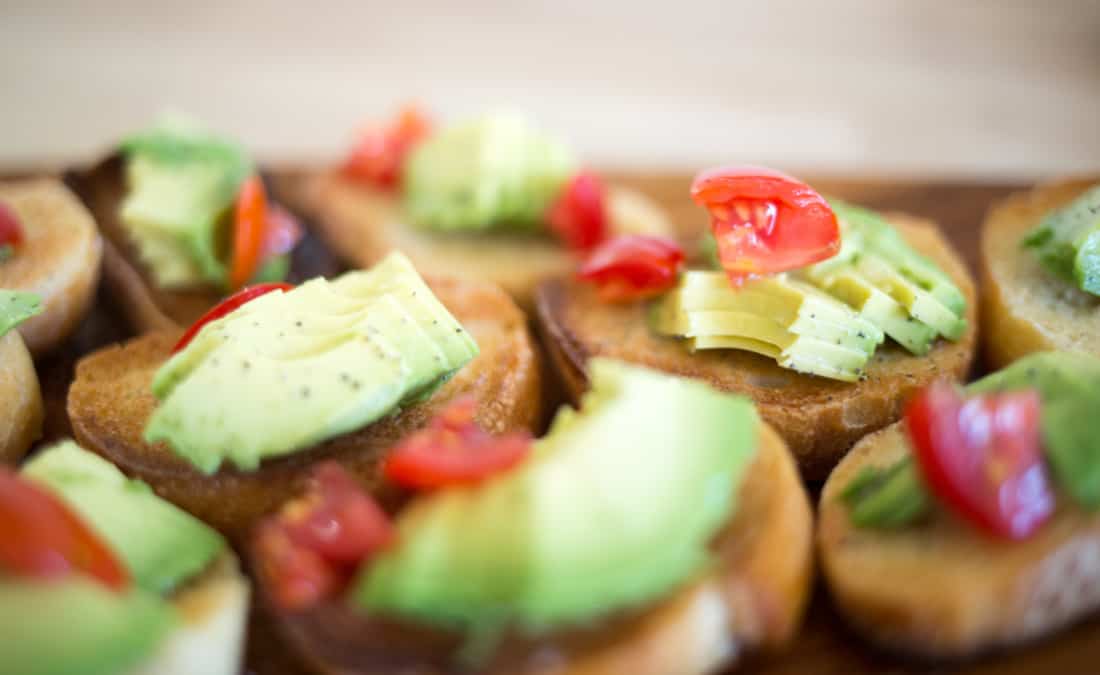 Who says avocado toast just has to be for breakfast?! Interactive and make-your-own appetizers are always a big hit during the holidays. Turn a favorite recipe into a fun and customizable appetizer with a mini avocado toast bar.

Start by offering different bread options such as slices of a toasted baguette, mini rye toasts, and slices of toasted six-grain bread. (You can even make it gluten-free with this Seedy Low-Carb Bread Recipe!)
Next, you can either offer slices of fresh avocado or opt for the pre-mashed avocado you can find at the grocery store. If serving fresh avocado, you may want to spritz the slices with lemon juice or olive oil to prevent them from browning too fast. 
Avocado Toast Toppings
Last, but certainly not least, is offering a number of topping options. Some of my favorites are:
Fresh chopped herbs
Hemp seeds
Vegetable slices
Crushed red pepper
Olive oil
Hot sauce
Variety of spices (everything bagel, garlic powder, chili powder, etc.)
Fresh salsa
Nut butter
Honey
Fresh berries
Other Plant-Based Appetizers, Drinks, and Desserts
Looking for more plant-based holiday inspiration? Try some of my favorite recipes below!
Pomegranate Ginger Mojito Mocktail
Shaved Brussels Sprouts Harvest Salad with Maple Mustard Dressing
Pomegranate Glazed Brussels Sprouts with Pistachios
Which of these plant-based appetizers would you try first? Please share, I'd love to hear!